Rotary evaporators are currently for sale with the favorable price and sincere service.
A rotary evaporator (rotovap or rotatvap) refers to a kind of equipment for solvent evaporation under reduced pressure, which is composed of a vacuum system, a heated water or oil bath, a condenser and a motor that rotates the evaporation flask. As its name suggests, what is special is that the evaporation flask can rotate.
---
introduction to Rotary evaporator
Rotary Evaporator --- Parts and Functions
A complete rotary evaporator is generally composed of the following parts, which cooperate with each other and all play an essential role in the working process of a rotary evaporator.
1. Evaporation Flask
The sample can be evaporated at the evaporation flask.
2. Rotary Motor
The rotary motor is used to drive the evaporation flask rotating at a continuous and constant speed in order to obtain a larger evaporation area and higher evaporation efficiency.
3. Vacuum System
The vacuum system can be used to reduce the pressure within the rotary evaporation system so that the solvent will have a lower boiling point at a reduced pressure.
4. Heating Bath
The heating bath is usually a hot water bath, which can be used to heat sample in the evaporation flask and regulate temperature.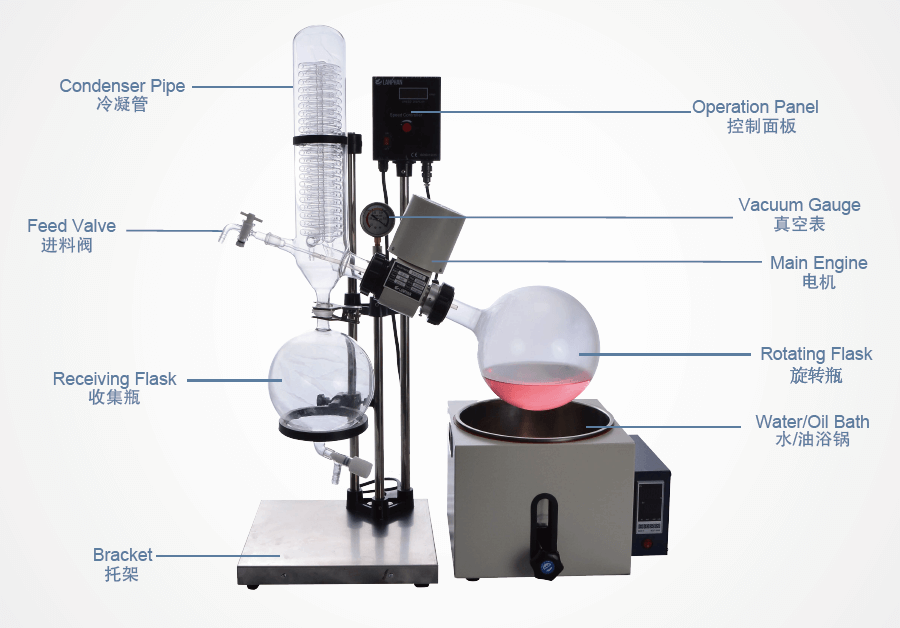 5. Condensate Pipe
There are double spiral serpentine condenser coils, vertical condensing glass assembly and other types of condensate pipes, which are used to condense the evaporated sample.
6. Evaporation Pipe
The evaporation pipe has two functions. One is to protect the sample during its rotation, and the other is to enable the vacuum system to suck out samples.
7. Receiving Flask
The receiving flask can recycle the sample after it's being condensed.
Get in Touch with Us
Address
Zhengzhou City, Henan Province, China
E-mail
Telephone
+86-371-67447999
WhatsApp
+86-13783661974