Description
The maximum capacity of a R-1020 double cold trap rotary evaporator is 2000ml, the rotating speed is from 5rpm to 120rpm, and the motor power is 60W. It adopts fully automatic control of temperature, rotating speed and bath's lifting. The rotary evaporator can rotate to form a thin film and evaporate efficiently under the constant temperature and negative pressure, and then it can condense the solvent for recycling. It is especially suitable for crystallization and separation of heat-sensitive materials as well as solvent recovery.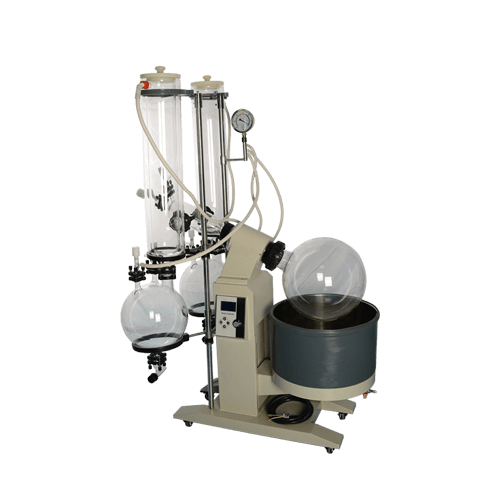 Product Features
  The main support is made of stainless steel and aluminium alloy, with a reasonable structure and exquisite material.
  All glass parts are made of high borosilicate glass (GG-17), high temperature and corrosion resistant.
  The sealing system combines imported fluororubber and Teflon for bidirectional sealing, featuring corrosion resistance, long service life and high vacuum degree.
  The vacuum gauge displays real-time vacuum and oil gauge is shockproof.
  The double cold traps for condensation increase the cooling capacity, enhancing the condensation effect and boosting recovery rate.
  The valve-type feed valve is connected with tetrafluoroethylene tube, which can realize continuous feeding.
  The receiving flask is equipped with a discharge port, convenient for receiving and discharging evaporated extract.
  The check valve for controlling can realize continuous feeding and vacuum switch under working condition.
  The latest integrated handwheel valves have great sealing performance and easy operation.
  It is controlled by the microcomputer type power supply.
  The LCD full screen displays both temperature and rotating speed, the bath can realize intelligent thermostat control, and PT100 type sensor can transfer temperature rapidly and accurately.
  The brushless DC gear motor features stable rotation, no spark, and deceleration boost.
  The bath is lifted and lowered electrically by deceleration booster motor, with a more stable lifting process.
  The inner container is made of high quality 304 stainless steel, anti-corrosion and durable. The outer layer is covered with silica gel, much safer to use at high temperature.
  With the over-temperature safety protection, the machine can power off automatically when the actual temperature exceeds 5℃ more than the setting temperature.
  If the power is cut off suddenly during the machine's operation, the machine will stop heating automatically when the power is switched on again.
A rotary evaporator, also known as rotovap or rotavap, is a common laboratory instrument used in chemical laboratory. It is mainly used for distilling a large amount of volatile solvent continuously under negative pressure, and commonly used for concentration of each component and solvent recovery in the separation of liquid extract and chromatography.
Product Advantages
1. The electronic stepless speed regulation can optimize the experimental environment with stable operation and silent design.
2. The motor can be lifted and lowered electrically and manually, easy to operate.
3. With any tilt within the range of 0-15℃, the host equipment can cooperate with the water bath better, and the rotating flask has a wider application range.
4. The condensing system can tilt along with the nose for continuous feeding. The vertical double reflux high-efficient coil condenser can condense solvent more rapidly and the recovery rate is close to 100%.
5. The rotating speed and heating kettle's temperature can be displayed digitally. Every parameter is clear.
6. The design is durable, and the explosion-proof coated glass assembly can be chosen as required.
7. The water tank is made of high quality stainless steel, extending the service life.
8. The ball grinding mouth receiving flask is connected with the integrated standard mouth condensate pipe in the socket way, featuring easy disassemble and excellent sealing performance.
9. The PTFE jackets arranged among the standard mouth glasses can reduce "bite dead" of glass grinding mouth, which is easy to disassemble and clean.
10. The rotating speed can be regulated within the range of 0-120rpm, which is intuitive and convenient with its digital display.
11. The rotating flask with ISO29 standard mouth can be easily taken down by utilizing thread, reducing glass damage and solving the difficulty in taking down the flask at high temperature.
12. The temperature fluctuation of a rotary evaporator is only 0.1℃, with a more stable evaporation, less existence of material clashing and sparkless control. It is much safer.
Packing List
Machine Part
Glass Part
Engine
1 pc
Rotating Flask
1 pc
Host Machine
1 pc
Receiving Flask
2 pcs
Operation Box
1 pc
Cold Trap
2 pcs
Water Bath
1 pc
19# Release Valve
4 pcs
Flask Clamp
1 pc
Frequency Converter
1 pc
PTFE
1 pc
Glass Shaft
1 pc
Heating Wire
1 pc
Set Screw
1 pc
PTFE Ring for Withdrawing Flask
1 pc
Nut with Gasket
2 pcs
Other Parts
Operation Manual
1 pc
10A Fuse
2 pcs
Warranty Card
1 pc
Sealing Gasket
2 pcs
Quality Certificate
1 pc
Packing List
1 pc
Product Parameters
Model
1020
Power/Voltage
220V/50Hz ( All kinds of export-type voltages and plugs can be customized.)
Rotary Motor Power
60W
Lifting Motor Power
40W
Heating Power
5KW
Vacuum Degree
0.098Mpa
Rotary Flask Capacity
20000mlΦ355mm/Φ95mm Flange Mouth
Receiving Flask Capacity
10000mlΦ280mm/Φ60mm Flange Mouth
Rotating Speed
0-120rpm/min
Temperature Control Range
0-400

℃

Temperature Control Accuracy
±

1

℃

Glass Temperature Range
-80-250

℃

Lifting Stroke of Bath Kettle
0-180(mm)
Dimension of Cold Trap
Φ160×800H(mm)
Feed Valve
Φ35 Flange Mouth
Release Valve
Φ35 Flange Mouth*2
Discharge Valve
¢

10mm Glass Side Discharge Port

Dimension and Volume of Bath Kettle
Φ450×250H(mm) About 39L
Overall Dimension
1200*500*1750(mm)
Package Dimension
1050L×800W×1210H(mm) About 0.67 m³
Package Weight
102KG
Product Details
1.The compound seal of PTFE and rubber ring can enhance air tightness of the equipment and vacuum degree of the system.
2. The double cold traps for condensation increase the cooling capacity, enhancing the condensation effect and boosting recovery rate. It doesn't require to connect with a chiller.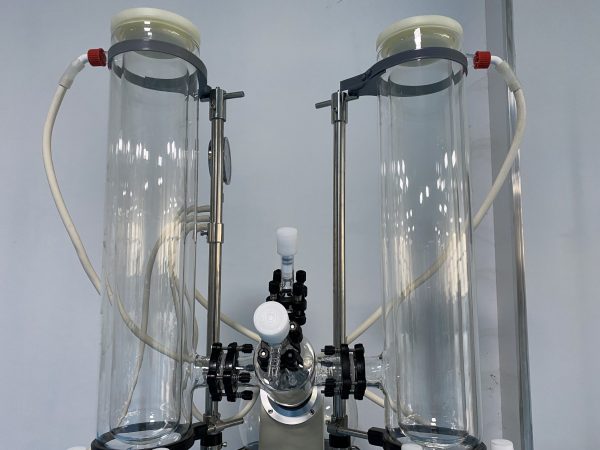 3. It adopts fully automatic control of temperature, rotating speed and bath's lifting, which can be timed. It is simple and convenient for operation.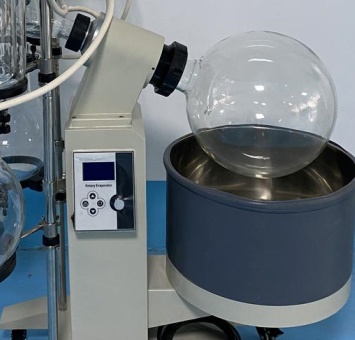 4. The cold traps are connected in parallel, and the steam is divided into two cold traps, reducing the workload of a single cold trap, enhancing total work efficiency and improving the handling capacity of the whole equipment.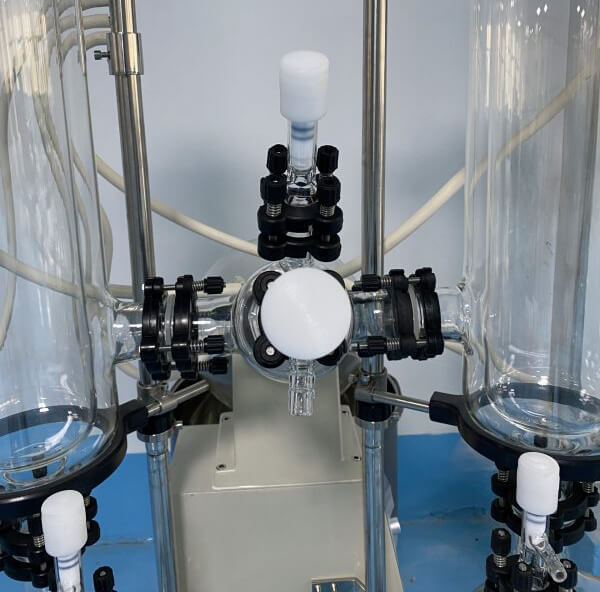 Products Accessory
A rotary evaporator is used with a water circulating vacuum pump, which can create a vacuum environment for reduced pressure distillation. They are widely applied in vacuum filtration, vacuum evaporation, vacuum degassing and other aspects.
Application Scenarios
A rotary evaporator is mainly used for concentration, crystallization, drying, separation and solvent recovery in pharmaceutical, chemical and bio-pharmaceutical industries. The principle is that the rotating flask can rotate at a constant speed by heating it under constant temperature and vacuum condition. The material forms a large area of thin film inside the flask wall and evaporates efficiently. The solvent steam is condensed by high efficient glass condenser and recycled into the receiving flask. It greatly improves the evaporation efficiency. The rotary evaporator is especially suitable for concentration and purification of biological products that are easily decomposed and denatured at high temperature. Specific applications are as follows:
  1. Pharmaceutical Industry
Various applications in the quality control process, research and development department and other laboratories: distillation/concentration/drying.
  2. Chemical Industry
Daily applications in the quality control process and research and development laboratory: concentration/reflux reaction/re-crystallization/sublimation.
  3. Academic/Educational Field
Wide application in academic and educational field: comprehensive evaporation application.
  4. Food/Beverage Industry
Applications in the quality control of food and beverage industries as well as the research and development of new ingredients: distillation/concentration/drying.
  5.Environmental Analysis
Applications in producing the monitoring sample of environmental pollution: Soxhlet extraction/concentration.
  6. Feed Industry
Applications in the quality control of feed industry as well as the research and development of new ingredients
FAQ
1. Q: What's the operating principle of the rotary evaporator?
A: Under the condition of negative pressure, evaporating flask rotating in the thermostat water bath, which makes solution form a thin film in bottle wall, so as to increase the evaporation area. Evaporating efficiently under low temperature, then condensate recycling through condenser pipe and concentrate to isolate the material to reach experiment requirements.
2. Q: What's the core technology of the rotary evaporator?
A: The key is system's gas tightness, that is whether system can keep high vacuum degree under all sorts of solvent's corrosion and movement state. Henan Lanphan' s R series instrument, which is sealed by composite material four fluorine rubber and glass, can stand all sorts of solvent, has reliable gas tightness and can maintain a high vacuum degree above -0.096MPa.
3. Q: What factor decides the working efficiency of Rotary Evaporator?
A: For same type equipment, mainly includes: steam temperature, vacuum degree and cooling water temperature. Restricted by some material's thermolability, the steam temperature may have certain limitation when working, so high vacuum degree and low cooling water temperature are two main factors for efficiency improving (can select cryopump to lower the temperature)
4. Q: What's the difference between vertical and inclined condenser?
A: They have no difference essentially. Vertical condenser is gradually popular because of its small space usage and convenience for transportation and use. Most high-capacity instruments use vertical condenser.
5. Q: What's the design basis of main engine and water bath kettle rising and falling?
A: It's mainly from the consideration of convenience, safe and economical. Generally, small-size rotary evaporators below 5L use main engine rising and falling and evaporators which are above 5L use water bath kettle rising and falling.
6. Q: How about the anti-explosion ability of R series Rotary Evaporator?
A: Our company's Rotary Evaporator adopt alternating current dynamo, stepless speed regulating (or frequency control), no electric brush and no spark in operation. Water bath kettle which goes with the evaporator adopts nitrogen-sealed relay control, silicon-controlled contactless switch and vacuum switch. Manual control switch adopt twice circuit control which make electric current less than 3mA and has favorable anti-explosion feature.
7. Q: How to select all kinds of rotary evaporator?
A: As for structure, our R series products all have excellent corrosion resistance ability and leakproofness ability. According to the solvent volume, 2L, 3L, 5L's machine is fit for lab and sample test; 5L, 10L, 20L's machine is fit for medium experiment; 20L, 50L's machine is fit for medium experiment and production, especially suitable for the extraction of metal ion-avoiding polluted material.
8. Q: What's the feature of rotary evaporator comparing to other evaporators?
A: It has the advantage of small structure, efficient, easy to observe and no metal ion pollution. It is applicable for laboratory, production and valuable material extraction. Its leakproofness ability can compare favorably with foreign equipment while it remain improvement in appearance and humanization design.
9. Q: How to select vacuum pump for rotary evaporator?
A: We recommend water-circulating pump which can bear all sorts of solvent corrosion and can vacuumize to -0.095MPa(to satisfy using requirements). According to the solvent volume, we can offer various vacuum pump types.
Pre-Sale Service
Provide 24-hour technical consultation and reply;
Provide professional quotation information;
Provide detailed product performance specification;
According to product's using condition, technicians will offer rationalization proposals to assist clients to select proper product types;
Provide other corollary equipment according to client requirements.
In-Sale Service
With supervision from the source of products, the qualified rate of raw materials entering the factory can reach 100%;
Whole manufacturing process are in strict accordance with promised procedure requirements, product qualified rate can reach100%;
Provide product's inspection record of key junctures to customers;
Provide production schedule photos to customers at regular intervals;
Package and transport of products are in strictaccordance with the export standard;
Provide transportation schedule information to clients timely.
After-Sale Service
Provide targeted installation video;
Under the premise of correct installation, normal maintenance and using, we guarantee one-year warranty period;
When warranty period has expired, our sold products enjoys lifetime guarantee repair, we only charge cost price for changing product's standard component and sealing component;
During installation and adjustment period, our after-sale service staff will communicate with customers frequently to know product's running state in time. Assist customers to install and adjust products until customers are satisfied;
If product has malfunction during operation period, we'll offer you satisfied answer in time. We'll reply you within 1 hour and provide solution or send staff to spot within 24 hours after receiving maintenance notification;
Lifelong free technical support. Conduct satisfaction survey and inquiry equipment running condition to clients by telephone or e-mail semiannually from the first day of equipment running, put on records of acquired information;
Provide assistance in solving problems such as equipment damage in the transport.
Ready to Query? Get a quote now!
Contact us for a free quote