Description
ZLGJ-10 Vacuum Freeze Dryer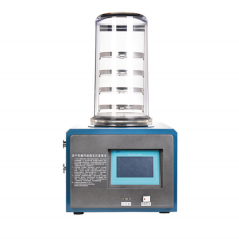 ZLGJ-10 Freeze Dryer (ordinary)
Freeze Drying Area:0.1㎡
Cold trap coil temperature:≤-55℃(no load)optional -80℃(no load)
Ultimate Vacuum: below 5pa (no load)
Pumping rate: 2L/S
Catching capacity:3-4KG/24H
Cooling Method: Air cooling
Defrosting Method: Natural Defrosting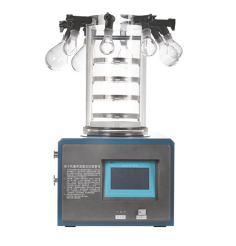 ZLGJ-10 (Multi-manifold)
Freeze Drying Area:0.1㎡
Cold trap coil temperature:≤-55℃(no load)optional -80℃(no load)
Ultimate Vacuum: below 5pa (no load)
Pumping rate: 2L/S
Catching capacity:3-4KG/24H
Cooling Method: Air cooling
Defrosting Method: Natural Defrosting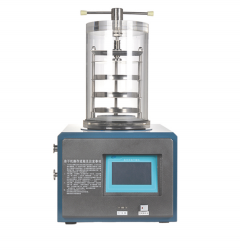 ZLGJ-10 (Gland type)
Freeze Drying Area:0.08㎡
Cold trap coil temperature:≤-55℃(no load)optional -80℃(no load)
Ultimate Vacuum: below 5pa (no load)
Pumping rate: 2L/S
Catching capacity:3-4KG/24H
Cooling Method: Air cooling
Defrosting Method: Natural Defrosting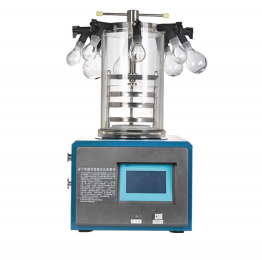 ZLGJ-10 Multi-manifold gland type
Freeze Drying Area:0.08㎡
Cold trap coil temperature:≤-55℃(no load)optional -80℃(no load)
Ultimate Vacuum: below 5pa (no load)
Pumping rate: 2L/S
Catching capacity:3-4KG/24H
Cooling Method: Air cooling
Defrosting Method: Natural Defrosting
ZLGJ-10 Freeze Dryer Features
One-piece structure design, small size, easy to use, no leakage.
All materials in contact with the product are made of inert materials and meet the requirements of GLP.
The cold trap and drying rack are made of stainless steel, which is corrosion-resistant and easy to clean.
The cold trap has a large opening, no inner coil, and has a sample pre-freezing function, without a low-temperature refrigerator.
Patented gas diversion technology, the cold trap captures ice evenly and has a strong ability to capture ice.
International famous brand compressor, high efficiency and energy saving, long service life, low noise.
Famous brand vacuum pump, high pumping speed, to achieve higher ultimate vacuum.
Vacuum pump protection function, can set the start-up cold trap temperature of the vacuum pump to protect the service life of the vacuum pump.
7-inch true-color industrial embedded touch screen + SH-HPSC-II modular controller, high temperature control accuracy, stable and reliable performance.
The intelligent data recording system can record and display the cold trap temperature curve, sample temperature curve and vacuum degree curve. The exported data can be browsed, printed and operated by computer.
User level and password can be set, decentralization for operation and management.
Powerful sensor calibration function to ensure the accuracy of long-term use of measured values.
ZLGJ-10 Freeze Dryer Parameter
Product Model

ZLGJ-10 (ordinary)

ZLGJ-10

(Multi-manifold)

ZLGJ-10

(Gland type)

ZLGJ-10

Multi-manifold gland type

Freeze Drying Area

0.1 ㎡

0.1 ㎡

0.1 ㎡

0.1 ㎡

Cold trap coil temperature

≤-55℃(no load)optional -80℃(no load)

Ultimate Vacuum

Below 5pa (no load)

Pumping rate

2L/S

Catching capacity

3-4kg/24h

Cooling Method

Air cooling

Defrosting Method

natural defrosting

Total Weight

48kg

Total Dimension

520x600x400 mm

Total Power

950W

Relative humidity

≤70%

Power Supply, Voltage

Single phase 220V 50HZ
In the fields of chemistry and biology, the importance of laboratory equipment cannot be underestimated. The presence of these instruments enables scientists to conduct various
Read More »