Description
Freeze-drying is a technique for drying by the principle of sublimation, which is to quickly freeze the dried material at low temperature. Then the frozen water molecules are directly sublimated into a process of water vapor evolution in a proper vacuum environment. The product of this process is called Freeze-dried product.
Product Features
1.Dry chamber door and cold well door adopt aviation acrylic materials with high strength and no leakage.
2.Seven-inch true color industrial touch screen, high control precision, stable performance, easy to operate.
3.Internationally famous brand compressors, energy efficient, more stable.
4.Inflator valve, drain valve, high vacuum safety diaphragm valve, can be connected with inert gas, extend material shelf life.
5.Manual, automatic model for choice, manual mode for exploring the process; automatic mode for mature technology, one button operating.
6.Monitoring screen; real-time monitoring of plate temperature, cold trap temperature, vacuum and other operating conditions.
7.Data record mode, data record multiple selection, data export and other functions.
8.Two temperature control modes can be switched at any time; standard temperature rise and fall mode, with smooth temperature control mode.
9.Freeze-drying curve query function, you can view the temperature, vacuum and other curves at any time.
10.Can set user level and permissions password, users enter into the manager system based on the permissions.
11.This machine can store 40 sets of freeze-drying process, each set can set 36 segments.
12.The machine uses 36V electric defrost, compared with non-electric defrost, the speed is faster and safety grade is higher.
Product Structure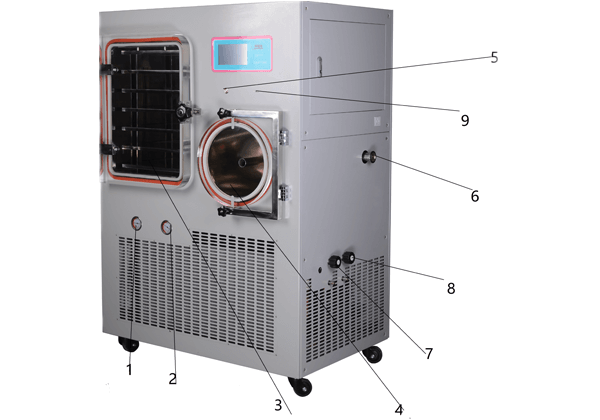 1.First-stage high pressure gauge
2.Second-stage high pressure gauge
3.The door of drying room
4.The door of cold trap
5.Main switch
6.Vacuum interface
7.Water drain valve
8.Inflation valve
9.USB interface
Product Parameters
Classical type
ZLGJ-20
ZLGJ-30
ZLGJ-50
ZLGJ-100
Freeze-dried area
0.3M2
0.4M2
0.5M2
1M2
Number of plate
3+1
3+1
4+1
6+1
Plates space
50mm
50mm
50mm
70mm
Plate size
270*400*15
300*340*15
360*480*15
360*480*15
Plate temperature
-50℃ to 70℃
-50℃ to 70℃
-50℃ to 70℃
-50℃ to 70℃
Cold trap temperature
≤-75℃
≤-75℃
≤-75℃
≤-75℃
Water for cold trap
4KG/24Hr
6KG/24Hr
8KG/24Hr
15KG/24Hr
Defrost
36V electric defrost
Natural defrost
Natural defrost
36V electric defrost
Voltage
AC220V/50Hz
AC220V/50Hz
AC220V/50Hz
AC380V/50Hz
AC380V/50Hz
Dimension
800*800*1550
880*735*1320
960*785*1450
1020*780*1700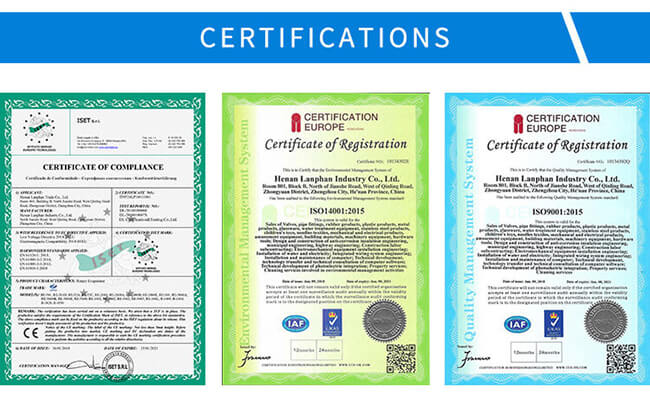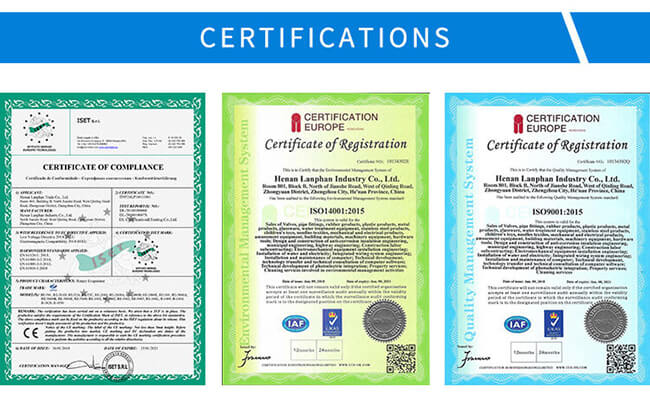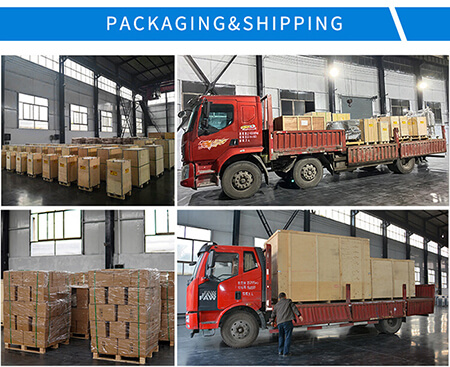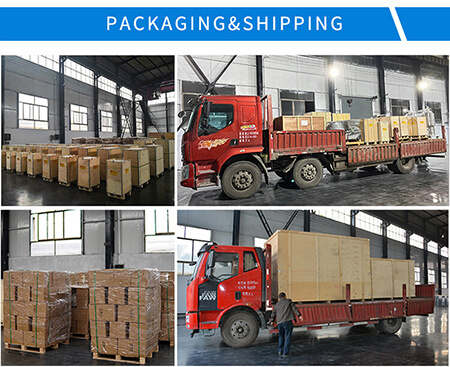 Pre-Sale Service
Provide 24-hour technical consultation and reply;
Provide professional quotation information;
Provide detailed product performance specification;
According to product's using condition, technicians will offer rationalization proposals to assist clients to select proper product types;
Provide other corollary equipment according to client requirements.
In-Sale Service
With supervision from the source of products, the qualified rate of raw materials entering the factory can reach 100%;
Whole manufacturing process are in strict accordance with promised procedure requirements, product qualified rate can reach100%;
Provide product's inspection record of key junctures to customers;
Provide production schedule photos to customers at regular intervals;
Package and transport of products are in strictaccordance with the export standard;
Provide transportation schedule information to clients timely.
After-Sale Service
Provide targeted installation video;
Under the premise of correct installation, normal maintenance and using, we guarantee one-year warranty period;
When warranty period has expired, our sold products enjoys lifetime guarantee repair, we only charge cost price for changing product's standard component and sealing component;
During installation and adjustment period, our after-sale service staff will communicate with customers frequently to know product's running state in time. Assist customers to install and adjust products until customers are satisfied;
If product has malfunction during operation period, we'll offer you satisfied answer in time. We'll reply you within 1 hour and provide solution or send staff to spot within 24 hours after receiving maintenance notification;
Lifelong free technical support. Conduct satisfaction survey and inquiry equipment running condition to clients by telephone or e-mail semiannually from the first day of equipment running, put on records of acquired information;
Provide assistance in solving problems such as equipment damage in the transport.