Description
Rotary Tablet Press Application
This machine can compress granular raw materials into various tablets.
It has the characteristics of single-pressure automatic rotation and continuous tablet compression.
Rotary tablet presses are mainly used for tablet production in the pharmaceutical industry.
At the same time, it is suitable for industrial sectors such as chemical industry, food and electronics.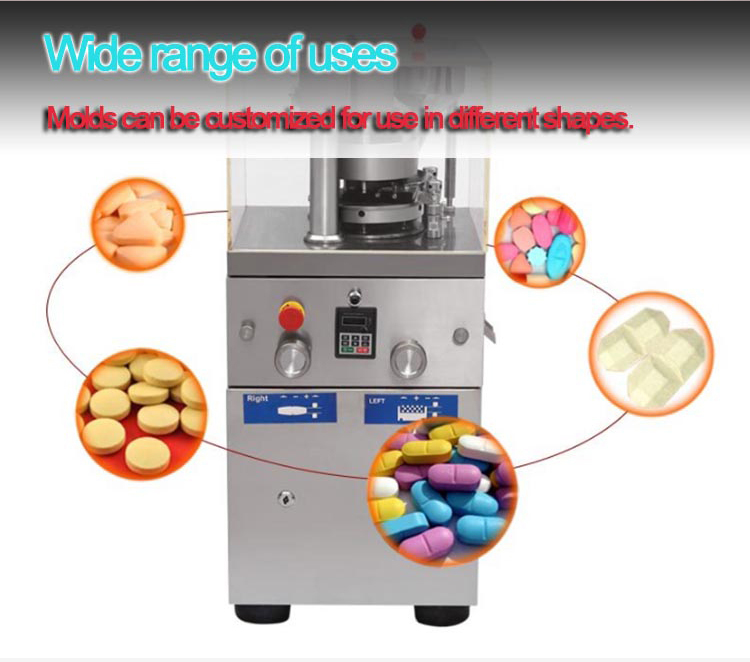 Rotary Tablet Press Structure
The peripheral casing is fully enclosed and made of stainless steel. The interior of the countertop is made of stainless steel. The surface of the turntable is specially treated to maintain the surface gloss and prevent cross-contamination, which meets the requirements of GMP. The machine is equipped with a transparent glass viewing window, which can clearly observe the state of the tablet. And the viewing window can be opened, which is easy to clean and maintain. The layout of each operating part is reasonable. The frequency conversion speed regulating device is used for electrical speed regulation, which is convenient to operate, stable in rotation, safe and accurate.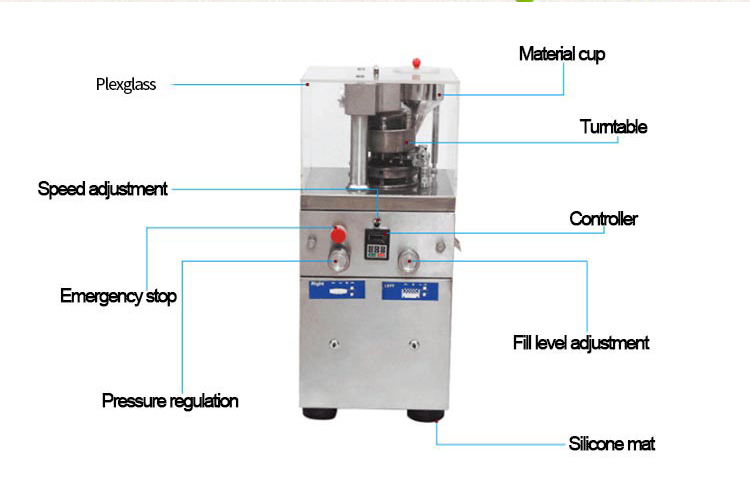 Rotary Tablet Press Parameter
Product Model

ZP-5

ZP-7

ZP-9

Die Number(piece)

5

7

9

Adjustable tablet pressure

40

40

40

Adjustable tablet diameter(mm)

12mm

Adjustable fill depth(mm)

15

15

15

Adjustable tablet thickness(mm)

6

6

6

Rotating speed(R/M)

30

30

30

Production Capacity(Piece/hour)

9000

12600

16200
Rotary Tablet Press Details