Description
Freeze Drying Principle
Freeze drying is the process of removing water or other solvents from frozen biological products by sublimation. Sublimation refers to the process by which a solvent, such as water, like dry ice, changes directly from a solid state to a gaseous state without going through a liquid state. The product obtained by freeze-drying is called lyophilizer, and the process is called lyophilization.
What is lab freeze dryer?
Laboratory freeze dryers are mostly used in universities and laboratories. Compared with ordinary freeze dryers, the main features are small size, flexibility and lightness, which is convenient for freeze-drying experiments of various materials and medicines.
Freeze-drying Technology Advantages
Freeze drying is carried out at low temperature, so it is especially suitable for many heat-sensitive substances. Such as proteins, microorganisms and the like will not denature or lose biological activity.
When drying at low temperature, the loss of some volatile components in the substance is very small, which is suitable for drying some chemical products, medicines and food.
During the freeze-drying process, the growth of microorganisms and the action of enzymes cannot be carried out, so the original characters can be maintained.
Because the drying is carried out in the frozen state, the volume is almost unchanged, the original structure is maintained, and the phenomenon of concentration will not occur.
The dried substance dissolves rapidly and completely after adding water, and restores its original properties almost immediately.
The substances that are easily oxidized are protected.
ZLGJ-12 Vacuum Freeze Dryer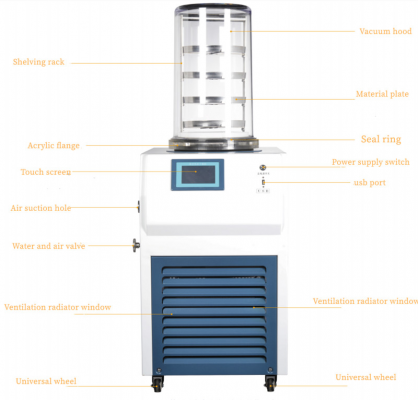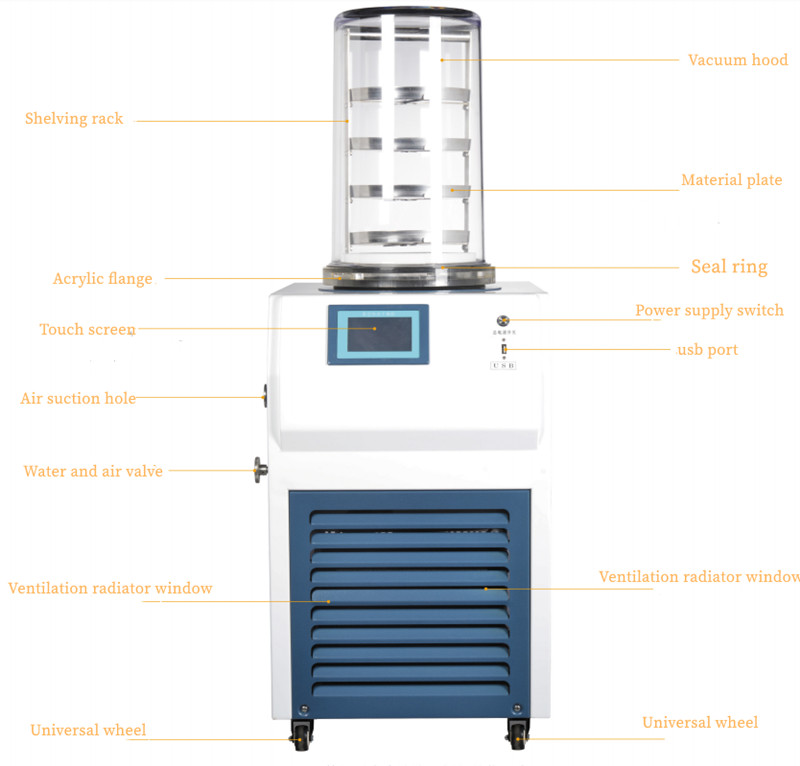 ZLGJ-12 Lab Freeze Dryer Features
Small size, easy to use, no leakage.
The part in contact with the product is made of inert material to meet GLP requirements.
The cold trap and drying rack are made of stainless steel. Corrosion resistant, easy to clean.
With pre-freezing function.
Proprietary gas diversion technology.
The cold trap traps ice evenly.
International famous brand compressor, with high efficiency, energy saving, low noise characteristics.
Famous brand vacuum pump, can achieve higher limit vacuum degree.
With vacuum pump protection function.
4.3-inch true color industrial embedded touch screen, modular controller.
High control precision, stable and reliable performance.
Intelligent data recording system.
You can set the user level and password for authorized operation management.
The powerful sensing calibration function ensures the accuracy of the measured value for long term use.
ZLGJ-12 Lab Freeze Dryer Parameter
Product Model

ZLGJ-12

(ordinary)

ZLGJ-12

(Multi manifold )

ZLGJ-12

(gland)

ZLGJ-12

(multi manifold gland)

Freeze-drying area

0.12㎡

0.12㎡

0.08㎡

0.08㎡

Cold trap coil temperature

≤-55℃(no load), optional -80 ℃(no load)

Ultimate Vacuum Degree

Below 5pa(no load)

Pumping Rate

2L/S

Water catching capacity

3-4kg/24h

Cooling Method

Air cooling

Defrosting mode

Natural Defrosting

Total Weight

63kg

Dimension

600x480x770mm

Total Power

950w

Relative Humidity

≤70%

Voltage,  Power Supply

Single phase 220v 50hz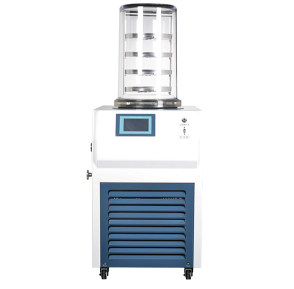 Freeze-drying area:0.12㎡
Cold trap coil temperature:≤-55℃(no load), optional -80 ℃(no load)
Ultimate Vacuum Degree:Below 5pa(no load)
Pumping Rate:2L/S
Water catching capacity:3-4kg/h
Cooling Method: air cooling
Defrosting mode: Natural Defrosting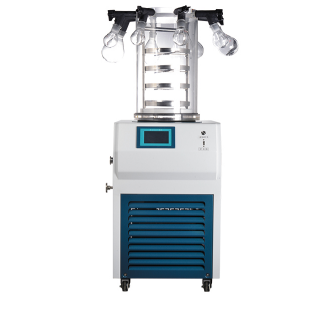 Freeze-drying area:0.12㎡
Cold trap coil temperature:≤-55℃(no load), optional -80 ℃(no load)
Ultimate Vacuum Degree:Below 5pa(no load)
Pumping Rate:2L/S
Water catching capacity:3-4kg/h
Cooling Method: air cooling
Defrosting mode: Natural Defrosting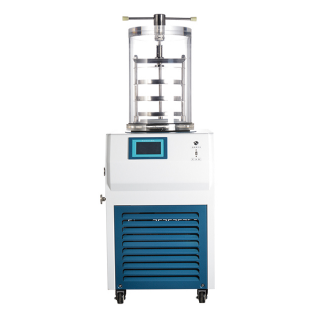 Freeze-drying area:0.08㎡
Cold trap coil temperature:≤-55℃(no load), optional -80 ℃(no load)
Ultimate Vacuum Degree:Below 5pa(no load)
Pumping Rate:2L/S
Water catching capacity:3-4kg/h
Cooling Method: air cooling
Defrosting mode: Natural Defrosting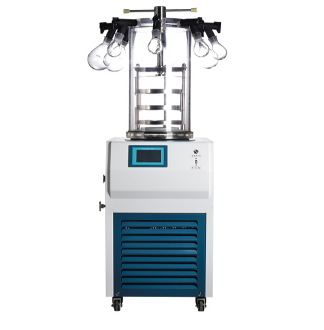 Freeze-drying area:0.08㎡
Cold trap coil temperature:≤-55℃(no load), optional -80 ℃(no load)
Ultimate Vacuum Degree:Below 5pa(no load)
Pumping Rate:2L/S
Water catching capacity:3-4kg/h
Cooling Method: air cooling
Defrosting mode: Natural Defrosting
Laboratory muffle furnaces come in various types and classifications based on their purpose, performance, and
In today's scientific laboratories and industrial settings, high-temperature heating experiments are commonplace. To precisely control
A household milk pasteurizer is a small-scale device designed for home environments, aimed at performing