Description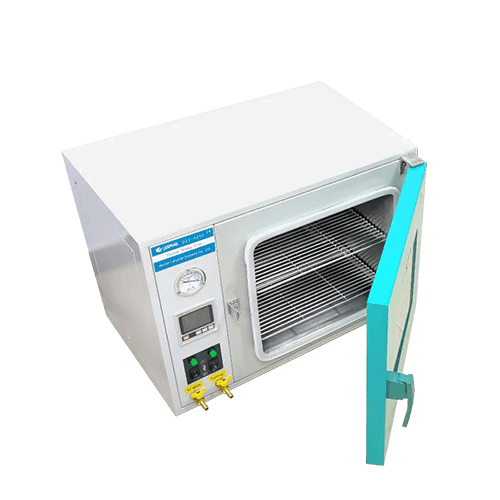 DZF vacuum drying oven is designed for drying heat sensitivity, easily decomposed and easily oxidized materials, especially for drying some complicated ingredient materials. It is capable of receiving the inactive gases, especially some substance with complex components, which are able to conduct fast drying operation. Working room is made from stainless steel, and its square shape has a wider using space than circular shape.
DZF vacuum drying oven's inner container dimension is 300*280*300mm. It uses double-layer glass door, which has the advantages of increasing thermal insulation properties, reduce fog in observation window and clearly to observe drying material.
Product Parts
Working Principle
The built-in microcomputer processor make use of electric signal which is generated by feedback value on-off to control the heating element, through PID self-tuning (manual adjustment is available), amended parameter will automatic locking and the correct signal constants the temperature within setting range, after the temperature buffer is stable, temperature difference is lower than ±1℃ under normal pressure and vacuum pressure. Front panel's "vacuum meter" displays the vacuum degree of working room. Special purpose bleeder valve can pump air and do vacuum drying. Other switches and control device are also set in the front panel, which has the advantages of easy to operate, light weight, save electricity and high thermal efficiency, especially suitable for the drying process of a few sample.
Product Features
1.DZF6020 vacuum drying oven working room use high-quality steel plate or hygiene-grade stainless steel plate, strong anti-corrosion ability;
2.Double-layer bulletproof and temperature resistance tempered glass window makes you clear at a glance of your work;
3.Heat source uses built-in S type anti-explosion resistance tube, which is safe and reliable, and reduces 50% of the heating time. The honeycomb-type heat conduction window balance the heating of working space;
4.Microcomputer temperature control is accurate and fast;
5.Touch key adjusted double-screen digital display panel makes it intuitional to set or read;
6.The close tightness degree of oven door is adjustable, and the compound silicon seal ring guarantees the high vacuum degree of the oven.
Product Parameters
| | |
| --- | --- |
| Working Voltage | 220V    50Hz |
| Temperature Control Range | RT+10~200℃/RT+10~250℃ |
| Constant Temperature Fluctuation | ±1.0℃ |
| Vacuum Degree | 0.098Mpa |
| Temperature of Working Environment | +5~40℃ |
| Input Power | 1400W |
| Liner Size(mm)W×D×H | 410×400×340 |
| Shape Size(mm)W×D×H | 710×580×530 |
| Loading Bracket (Standard Equipped) | 2 |
| Liner Material | 304 Stainless Steel (1Cr~18Ni9Ti) |
| Timing Range | 1~9999min |
[title style="center" text="Our Service" tag_name="h2″ color="rgba(32, 163, 219, 0.81)"]
Pre-Sale Service
Provide 24-hour technical consultation and reply;
Provide professional quotation information;
Provide detailed product performance specification;
According to product's using condition, technicians will offer rationalization proposals to assist clients to select proper product types;
Provide other corollary equipment according to client requirements.
In-Sale Service
With supervision from the source of products, the qualified rate of raw materials entering the factory can reach 100%;
Whole manufacturing process are in strict accordance with promised procedure requirements, product qualified rate can reach100%;
Provide product's inspection record of key junctures to customers;
Provide production schedule photos to customers at regular intervals;
Package and transport of products are in strictaccordance with the export standard;
Provide transportation schedule information to clients timely.
After-Sale Service
Provide targeted installation video;
Under the premise of correct installation, normal maintenance and using, we guarantee one-year warranty period;
When warranty period has expired, our sold products enjoys lifetime guarantee repair, we only charge cost price for changing product's standard component and sealing component;
During installation and adjustment period, our after-sale service staff will communicate with customers frequently to know product's running state in time. Assist customers to install and adjust products until customers are satisfied;
If product has malfunction during operation period, we'll offer you satisfied answer in time. We'll reply you within 1 hour and provide solution or send staff to spot within 24 hours after receiving maintenance notification;
Lifelong free technical support. Conduct satisfaction survey and inquiry equipment running condition to clients by telephone or e-mail semiannually from the first day of equipment running, put on records of acquired information;
Provide assistance in solving problems such as equipment damage in the transport.