Description
Portable Sterilizer Autoclave Application
Portable autoclaves are a useful way of sterilizing items on the go, making them the perfect choice for medical practitioners or research scientists who need to sterilize laboratory equipment. Portable autoclaves are typically small and light and come in a variety of shapes and sizes.
They use temperatures of up to 267°F (130°C) and are designed to destroy microorganisms, debris and any other harmful particles in the material being sterilized. This is done by heating or boiling the items until they reach a high enough temperature that kills these microorganisms and particles. Some portable autoclaves also employ pressure to enhance their sterilizing effectiveness.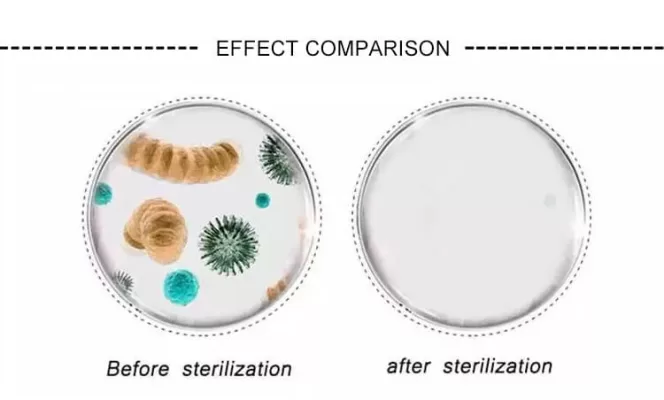 Portable Sterilizer Autoclave Features
1. Compact and portable size – The most obvious advantage of buying a portable sterilizer autoclave is that it is compact and easily portable. This makes it convenient to take to different places and use it wherever and whenever you need to.
2. Easy to use and maintain – Portable sterilizers are relatively simple to use, so you don't have to worry about the hassle of learning complicated instructions. Maintenance is also easier compared to that of standard–sized autoclaves.
3. Low operating costs – Portable sterilizers come with lower operating costs compared to their full–sized counterparts since they do not rely on the utilization of large volumes of water for operation.
4. Multipurpose functions – Most portable autoclaves also offer additional functions such as air drying, air deflation, and external wash. This makes them ideal for a variety of applications such as cleaning, sterilizing and maintaining medical tools and equipment.
5. Lower energy consumption – Portable sterilizers typically use less energy than standard–sized autoclaves, making them more energy–efficient and cost–effective.
6. Quality assurance – With a portable sterilizer, you can be certain that all objects which have been through the sterilization process meet the appropriate standards for quality assurance.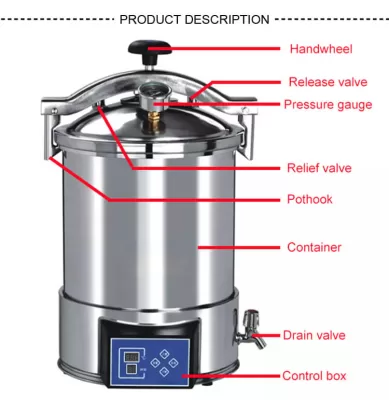 Portable Sterilizer Autocalve Parameter
Technical Data

LPYX-18HDD

LPYX-24HDD

Sterilizing volume

18L(280*260mm)

24L(280*390mm)

Working pressure

0.14-0.16MPa

Working temperature

126℃

Temperature adjust range

105-126℃

Timer range

0-99 min

Max. safety pressure

0.165Mpa

Heat average

≤±1℃

Power

AC220V.50Hz / 2KW

Dimension

410×410×630 mm

410×410×750 mm

G.W / N. W

14/12 KG

15/14 KG
Ready to Query? Get a quote now!
Contact us for a free quote