Description
[title style="center" text="Ethanol Extraction Equipment" tag_name="h2″ color="rgba(32, 163, 219, 0.81)"]
Product Description
The ethanol extraction equipment, known as industrial centrifuge as well, is a general-purpose mechanical product for gap operation. It is suitable for separating suspensions containing solid phase particles whose diameters are equal or greater than 0.01 mm, such as separation of granular, crystalline or fibrous materials, and also for textile dehydration. Although the PS type is manually unloaded, it has the advantages that the filtration time can be grasped at any time, and the filter residue is sufficiently washed, and the solid phase particles are not destroyed. The contact part between the centrifuge and the material is made of stainless steel material. Therefore, it is widely used in chemical, pharmaceutical, food, light industry and other fields. At the same time, special centrifuges can be produced according to the needs of users.
Product Parameters
Model
Drum diameter mm
Drum height
 mm
Volume  L
 Revolving speed

r/min

Motor Power
KW
Size
mm
Weight
KG
PP-15
300
250
15
2000
1.1
950*500*480
210
PP-25
300
350
25
2000
1.5
950*500*580
220
PP-45
450
300
45
1500
2.2
1250*700*760
450
PP-60
450
400
60
1500
3
1250*700*860
470
PP-85
600
300
85
1250
3
1500*900*950
970
PP-110
600
400
110
1250
4
1500*900*1050
1000
PP-140
600
500
140
1250
5.5
1500*900*1150
1030
Working Principle
A centrifuge is a machine that separates solid and liquid components in a suspension and an emulsion by centrifugal force.
The working process of ethanol extraction equipment can be roughly concluded as follows. The centrifuge has a cylinder (drum) that rotates at a high speed, which is usually driven by an electric motor. After the suspension (or emulsion) is added to the drum, it is rapidly driven to rotate at the same speed as the drum, and the components within the mixtures are separated under the function of the centrifugal force and discharged separately. Generally, the higher the drum speed is, the better the separation will be. When the suspension containing fine particles is left still, the suspended particles gradually sink due to the action of the gravitational field. The heavier the particles are, the faster they sink.
Shock Absorber
The utility model is composed of a liner, a casing, a chassis and a suspension system. The connection between the casing and the chassis is connected by a screw hole of the chassis and a sealing band of a lower portion of the casing. The whole body is supported by four buffer angles. The main function of the chassis is to collect and drain the filtrate.
It is the main component of the machine, composed of a porous drum body, a drum bottom, a bottom hoop, and a liquid intercepting plate.
The spindle device is composed of a spindle, a bearing and a bearing housing. The top of the spindle has a thread for screwing the drum, in order to press the drum with a nut. The spindle is equipped with two bearings and is supported by the bearing housing. The bearing housing is fixed in the middle of the chassis. The lower end is equipped with a pulley.
The transmission is mainly composed of parts such as pulleys. When the motor is running, the pulley isdriven by the motor wheel to drive the drum for high-speed separation.
Product Details
As a jacketed type, the jacket can be connected to the chiller for refrigeration or heat preservation.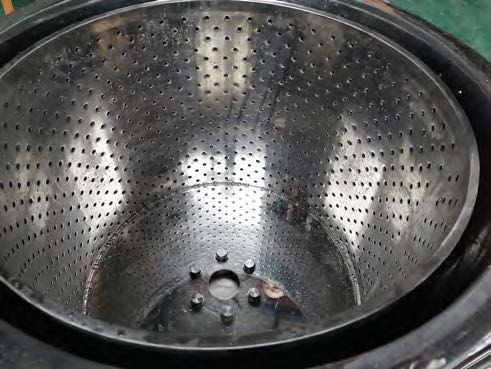 With a touch screen operation panel, which is easy to operation.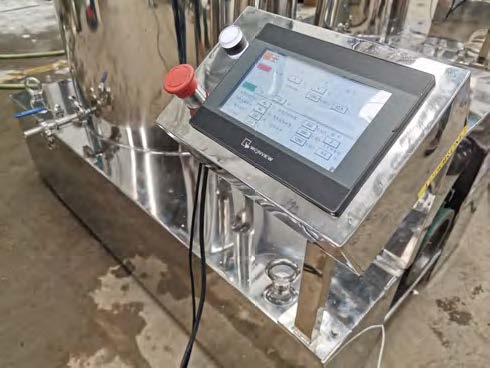 Explosion motor makes working safer.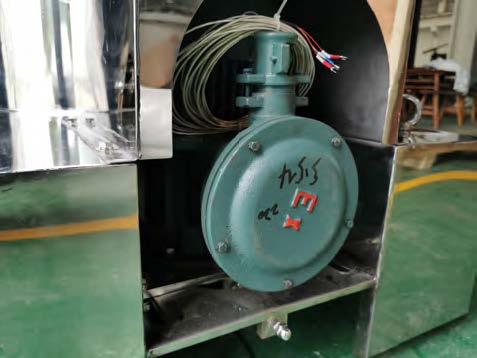 With a temperature sensor, so the temperature can be known at any time.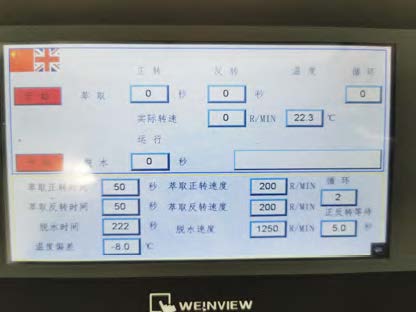 There is a sight glass on the top, which is convenient to observe the situation inside.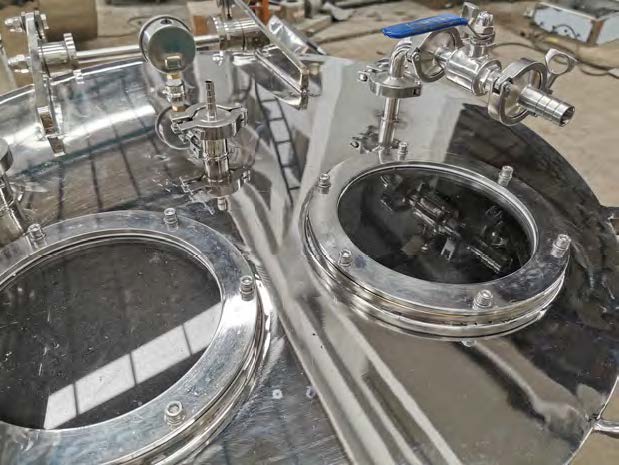 The vacuum port can be connected with vacuum pump, realizing automatic feeding.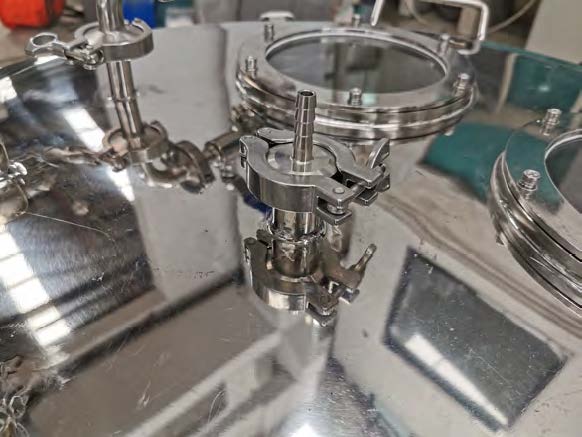 [title style="center" text="Matching Products" tag_name="h2″ color="rgba(32, 163, 219, 0.81)"]
[ux_products style="normal" col_spacing="normal" ids="350,211,2483,216″]
[title style="center" text="Quality Certifications" tag_name="h2″ color="rgba(32, 163, 219, 0.81)"]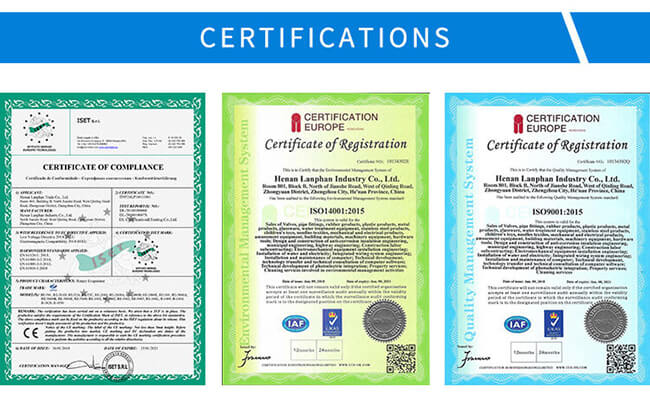 [title style="center" text="Package & Delivery" tag_name="h2″ color="rgba(32, 163, 219, 0.81)"]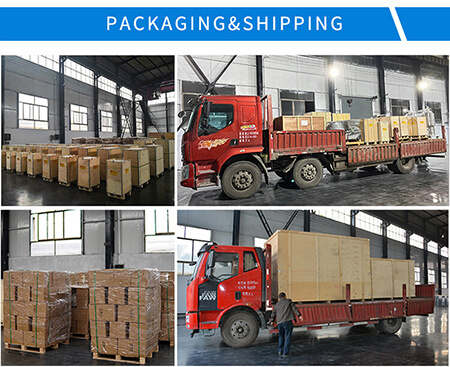 [title style="center" text="Our Service" tag_name="h2″ color="rgba(32, 163, 219, 0.81)"]
Pre-Sale Service
Provide 24-hour technical consultation and reply;
Provide professional quotation information;
Provide detailed product performance specification;
According to product's using condition, technicians will offer rationalization proposals to assist clients to select proper product types;
Provide other corollary equipment according to client requirements.
In-Sale Service
With supervision from the source of products, the qualified rate of raw materials entering the factory can reach 100%;
Whole manufacturing process are in strict accordance with promised procedure requirements, product qualified rate can reach100%;
Provide product's inspection record of key junctures to customers;
Provide production schedule photos to customers at regular intervals;
Package and transport of products are in strictaccordance with the export standard;
Provide transportation schedule information to clients timely.
After-Sale Service
Provide targeted installation video;
Under the premise of correct installation, normal maintenance and using, we guarantee one-year warranty period;
When warranty period has expired, our sold products enjoys lifetime guarantee repair, we only charge cost price for changing product's standard component and sealing component;
During installation and adjustment period, our after-sale service staff will communicate with customers frequently to know product's running state in time. Assist customers to install and adjust products until customers are satisfied;
If product has malfunction during operation period, we'll offer you satisfied answer in time. We'll reply you within 1 hour and provide solution or send staff to spot within 24 hours after receiving maintenance notification;
Lifelong free technical support. Conduct satisfaction survey and inquiry equipment running condition to clients by telephone or e-mail semiannually from the first day of equipment running, put on records of acquired information;
Provide assistance in solving problems such as equipment damage in the transport.
[title style="center" text="Send Message" color="rgba(32, 163, 219, 0.81)"]