Description
The SL212 series ultrasonic double layer glass reactor adopts double-layer glass design. The reaction solvent can be put in the internal layer to do the stirring reaction, and different cold and heat sources (refrigerating fluid, hot water or oil) can be connected to the interlayer to do the circulating heating or cooling reaction. And the ultrasonic device is equipped, which can save solvent, speed up the reaction process, enhance both the extraction rate and the dissolution rate. At a constant temperature, the stirring reaction can be done under normal or negative pressure, as well as the backflow and distillation of the reaction solution. It is an ideal pilot-plant and production equipment for modern fine chemical industry, biopharmaceutical and new material synthesis.
An ultrasonic double layer glass reactor is an ideal equipment for lab-scale and pilot tests, biopharmaceutical, new drug research and development and new material synthesis. It is primarily used in small chemical industry, petroleum, metallurgy, coal, electronics, building materials, light industry and other fields, or the medium and small scale production.
An ultrasonic double layer glass reactor is independently researched and designed, while it imports international advanced technology. It can improve the dissolution rate and speed up the reaction process, and efficiently reduce reaction failure caused by uneven dispersing of reactants concentration. Furthermore, it serves as a green, safe and simple descaling method, which is capable of effectively removing obstinate residues inside the kettle wall.
Basic Parameters
Model
S212-10L
 
Glass Material
GG-17
 
Frame Material
Stainless steel
 
Pipe Fitting Material
SS 304
 
Moving Mode
Universal casters with braking
 
Volume of Reaction Flask
10L
 
Interlayer Volume
6L
 
Flange Type Oil Inlet and Outlet
Low in and high out
 
Flask Necks of Kettle Cover
PTFE seven ports
 
Height of Discharge Port
450mm
 
Reaction Temperature of Kettle Body
-80~250℃
 
Ultrasonic Power
2000W
 
Ultrasonic Frequency
20kHz
 
Vacuum Degree
0.098Mpa
 
Rotating Speed of Stirring
0-450rpm
 
Diameter of Stirring Shaft
12mm
 
Stirring Power
90W1/3
 
Power/Frequency(V/Hz)
220V/50Hz
 
Overall Dimension(mm*mm*mm)
520*520*2000
 
Package Dimension(mm*mm*mm)
1370*590*800    0.65 square meter
 
Package Weight(KG)
98
Function Configuration
Speed Regulation Mode
Electronic stepless speed regulation
 
Motor Configuration
Low speed booster motor, speed ratio is 3:1
 
Speed Display Mode
LCD digital display
 
Temperature Display Mode
PT100 sensor digital display
 
Sealing Method
Mechanical seal, ¢50 flange stirring port
 
Condenser
Vertical high efficiency double reflux condenser pipe 100*670mm
 
Reflux (Distillation) Device
Return elbow with discharge switch, 50# ball-milling mouth
 
Dropping Device
1L constant pressure funnel, 40# standard port
 
Pressure Reducing Device
34# standard port pressure reducing valve
 
Ultrasonic Device
¢80 flange coupling
 
Ultrasonic Control
Touch screen LCD digital display
 
Temperature Measuring Tube
24# standard port
 
Solid Feed
¢80 flange mouth with PTFE cover
 
Discharge Mode
Oblique type glass discharge valve, ¢80 flange mouth
 
Vacuum Display Mode
Vacuum Gauge
 
Stirring Connection Mode
Universal joint connection
 
Stirring Rod
Anchor stainless steel rod, wrapped in PTFE
Optional Configuration
Main Support
Tray type
 
Receiving Device
Receiving flask
 
Explosion Proof
Explosion-proof frequency, explosion-proof motor, EX180W, 0-1400rpm
 
Frame Part
Plastic spraying or PTFE spraying
 
Insulated Device
Insulated cotton
 
Sealing Part
Ceramic bearing, mechanical sealing
 
Condenser
The horizontal condenser can lower the overall height.
All laboratory instrument in our factory is independently researched and developed, and other laboratory instrument can be customized according to the actual requirements of customers.
1. The kettle body is made of PTFE, which can avoid rupture caused by the ultrasonic vibration.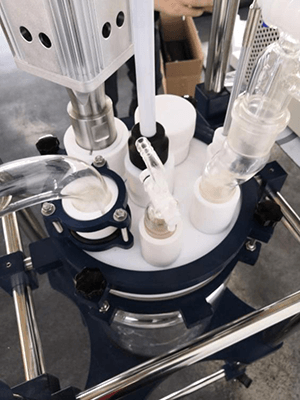 2. The kettle body is equipped with the insulated device, featuring thermal insulation.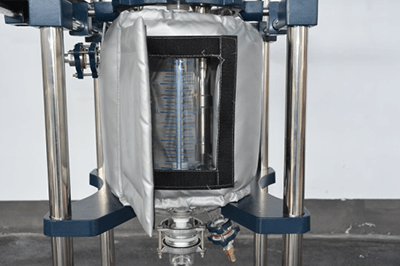 3. The discharge valve, with the special design, can discharge concentrated liquid and minute amounts of solid.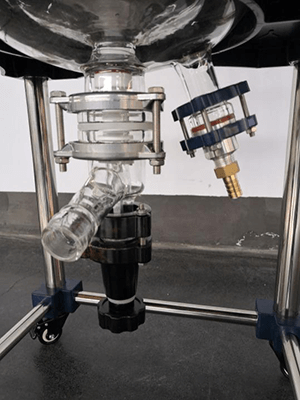 4. The main structure adopts stainless steel and aluminium alloy, which are elegant and durable.
1. Don't casually move driving power and directly plug in or out power supply during the operation. In case of any abnormal sound or indication, switch off the driving power immediately and troubleshoot the failure cause to avoid equipment damage.
2. It is a normal phenomenon to have some slight cavitation on the surface of tool heads after products go through the factory test.
3. There are precision components carrying high voltage in the ultrasonic device. Don't disassemble or assemble without permission or under no guidance of professional personnel.
4. Pay attention to the case temperature of the main engine when it is used for a long time. The forced dissipation is required when the temperature exceeds 45℃ in order to ensure the normal operation of the main engine.
5. Remove the blue plastic film before use to ensure the heat dissipation. 6. It is strictly prohibited to start for a long time without load, and the no-load start shouldn't exceed 15 seconds.
1. Q: What is the difference between ultrasonic double layer reactor and double layer reactor?
A: Based on a double layer reactor, an ultrasonic double layer reactor is equipped with the ultrasonic device. It can improve the dissolution rate, speed up the reaction process and effectively reduce the reaction failure caused by uneven dispersing of reactants concentration. It is capable of effectively removing obstinate residues inside the kettle wall as well.
2. Q: What is the glass material of the reactor?
A: The full set of glass instrument is made of GG-17 borosilicate glass, with excellent chemical and physical properties.
3. Q: What circumstance can it be used?
A: It is applicable between -80℃ and 200℃.
4. Q: Is it easy to clean receiving flasks?
A: When the ultrasonic wave acts on the liquid, the rupture of each bubble in the liquid will produce a powerful shock wave to clean and wash the inner and outer surface of the workpiece.
5. Q: What kind of payment terms do you accept?
A: Normally we accept TT, Paypal, Western Union, Alibaba International Alipay, and L/C. The exact term will be discussed during the deal.
6. Q: How will you delivery these goods?
A: It will depend on your quantity. Normally we will choose International Express, sea and air transportation.
7. Q: How will you pack the product?
A: The small pieces are packed in special cartons, and the large pieces are packed in non fumigation wooden cases.
Ready to Query? Get a quote now!
Contact us for a free quote