Description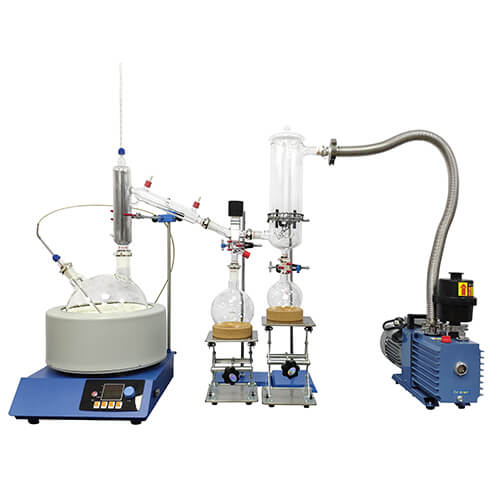 Short path distillation equipment is a new apparatus produced by our company according to the demand of the market. This apparatus, characterized by simple structure, less land occupation, high evaporation and recovery efficiency, is mainly used in fractional distillation.
Fractional distillation is a process to separate compounds with different boiling point in some mixtures. During the process, the mixtures are heated, and the objected substance is separated according to the difference of matters in the mixtures. The process is physical change because there isn't new substance produced. Fractional distillation is actually multiple distillation that is suitable for separation and purification of liquid organic mixtures with little difference in boiling point, such as fractional distillation of coal tar and petroleum. When the boiling point of the reaction is closer than 20 degree, the fractional distillation is more suitable than simple distillation. Fractional column in the short-path distillation equipment can provide a big cooling area. Fractionation is the process of multiple gasification-condensation in a single operation using a fractional column. Therefore, fractionation is actually multiple distillation. It is more suitable for separating and purifying liquid organic mixtures with little difference in boiling point.
Product Structure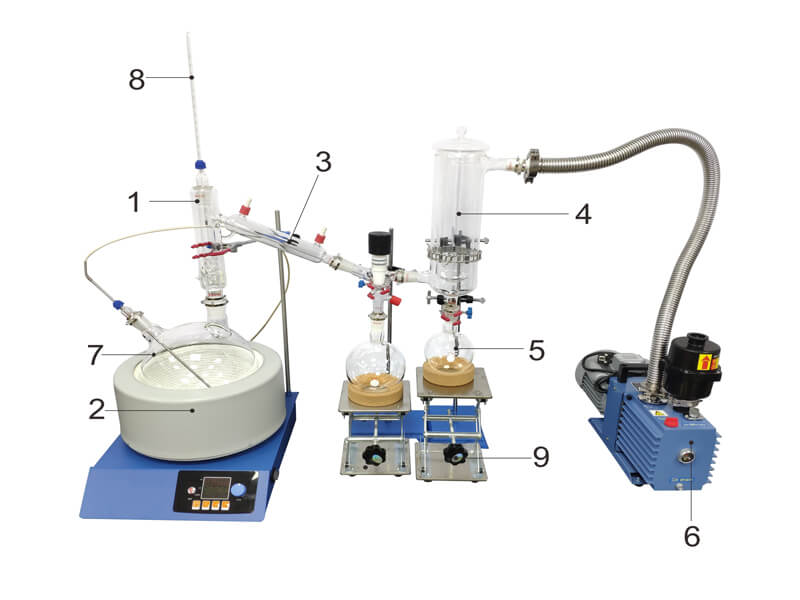 1.Distilled bottle
2.Electric heating mantle
3.Distilled heads
4.Cold trap
5.Collection bottle
6.Rotary vane vacuum pump
7.Reaction bottle
8.Thermometer
9.Lifting platform
Product Details
Greater efficiency in distillation.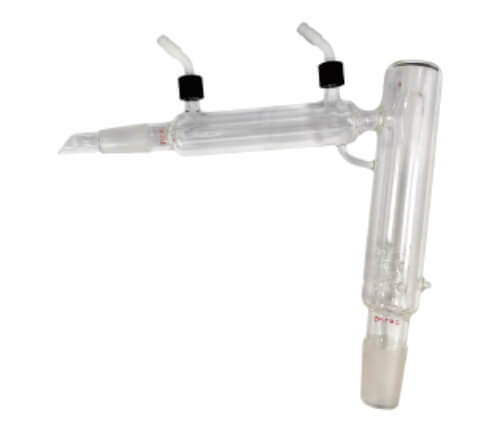 The temperature monitor is designed to be not able to touch the reaction materials, thus obtaining good protection and good sealing effect.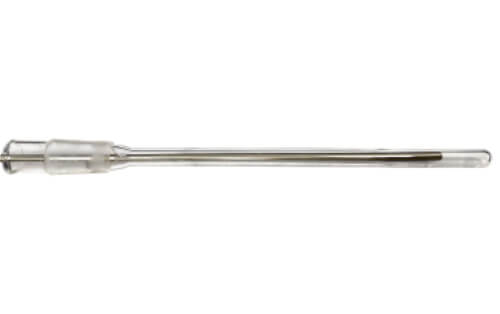 High-temperature resistant, corrosion-resistant, highly intensive and durable.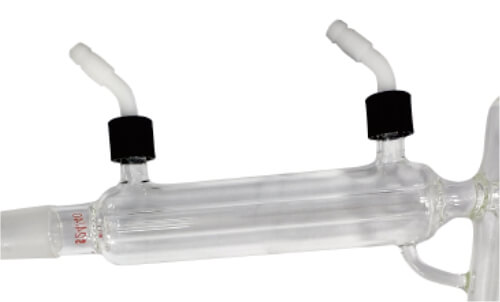 Quality stainless steel three-way valve (304/316), with vacuum gauge.
Materials can be extracted continuously during the experiment without pressure relief.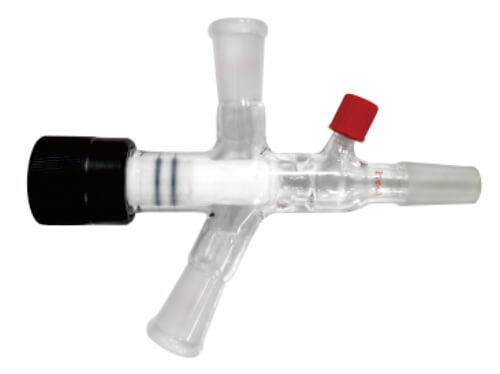 Seal parts and temperature monitor are optional.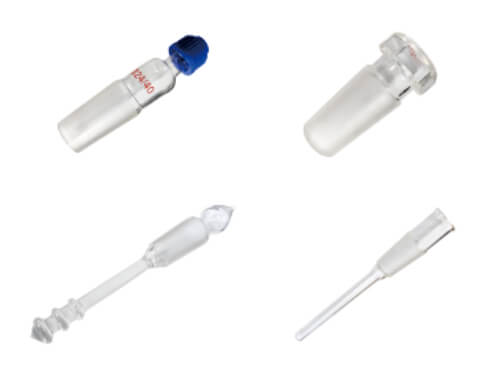 Product Parameters
Best Short Path Distillation Kit
Model
SD-2
SD-5
SD-10
SD-20
Material
G3.3
Heating Capacity(ml)
2000
5000
10000
20000
Heating temperature(℃)
Room temperature -250
Accuracy(℃)
±1
Vaccuum Degree(Mpa)
0.098
Working temperature(℃)
5-40
Voltage
220V/50Hzor110V/60Hz
380V/50Hz
Package Size
450*450*600
580*580*735
850*850*600
Weight
18
24
30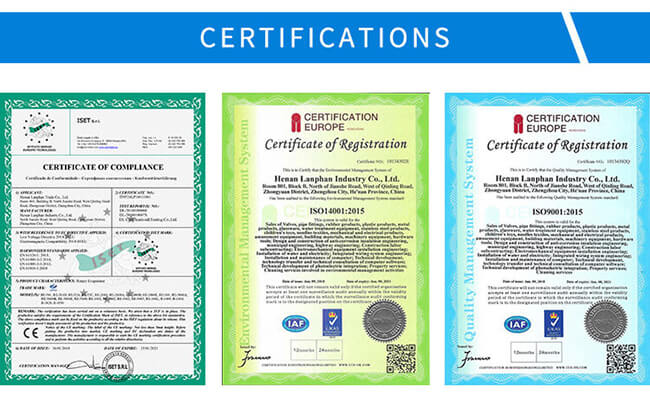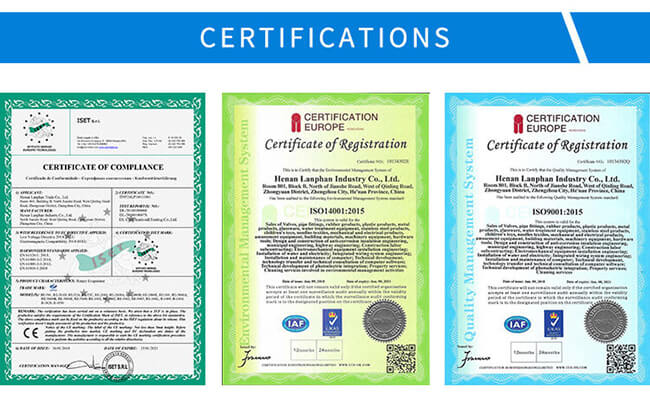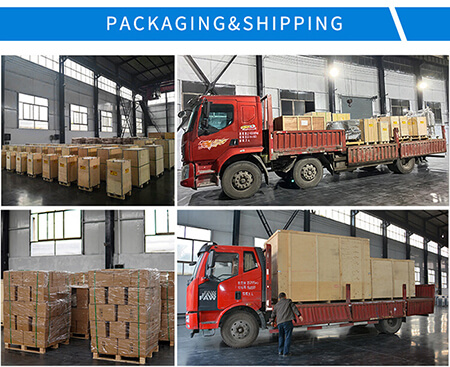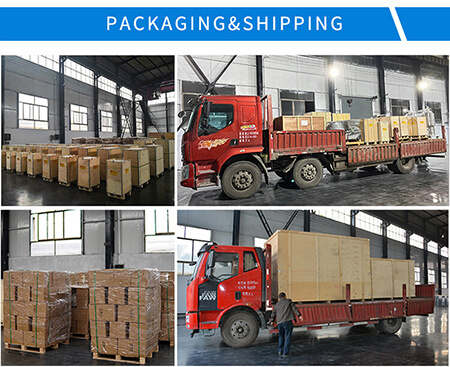 Pre-Sale Service
Provide 24-hour technical consultation and reply;
Provide professional quotation information;
Provide detailed product performance specification;
According to product's using condition, technicians will offer rationalization proposals to assist clients to select proper product types;
Provide other corollary equipment according to client requirements.
In-Sale Service
With supervision from the source of products, the qualified rate of raw materials entering the factory can reach 100%;
Whole manufacturing process are in strict accordance with promised procedure requirements, product qualified rate can reach100%;
Provide product's inspection record of key junctures to customers;
Provide production schedule photos to customers at regular intervals;
Package and transport of products are in strictaccordance with the export standard;
Provide transportation schedule information to clients timely.
After-Sale Service
Provide targeted installation video;
Under the premise of correct installation, normal maintenance and using, we guarantee one-year warranty period;
When warranty period has expired, our sold products enjoys lifetime guarantee repair, we only charge cost price for changing product's standard component and sealing component;
During installation and adjustment period, our after-sale service staff will communicate with customers frequently to know product's running state in time. Assist customers to install and adjust products until customers are satisfied;
If product has malfunction during operation period, we'll offer you satisfied answer in time. We'll reply you within 1 hour and provide solution or send staff to spot within 24 hours after receiving maintenance notification;
Lifelong free technical support. Conduct satisfaction survey and inquiry equipment running condition to clients by telephone or e-mail semiannually from the first day of equipment running, put on records of acquired information;
Provide assistance in solving problems such as equipment damage in the transport.