Description
[title style="center" text="S212-5L Double-Layer Glass Reactor" tag_name="h2″ color="rgba(32, 163, 219, 0.81)"]
Product Description
The
S212 double-layer glass reactors
adopt double-layer glass design. The reaction solvent is put in the internal layer to do the stirring reaction, and different cold and heat sources (refrigerating fluid, hot water or oil) can be connected to the interlayer to do circulating heating or cooling reaction. Under the condition of the given constant temperature, the stirring reaction can be done under normal or negative pressure in a closed glass reactor, as well as the backflow and distillation of the reaction solution. It is an ideal pilot-plant and production equipment for modern fine chemical industry, bio-pharmaceutical and new material synthesis. Under the condition of the given constant temperature, the stirring reaction can be done under normal or negative pressure in a closed glass reactor, as well as the backflow and distillation of the reaction solution. The
S212-5L double-layer glass reactor
is an ideal pilot-plant and production equipment for modern fine chemical industry, biopharmaceuticals and new material synthesis. The glass reactor series mainly contains following parts: the double-layer glass reaction kettle, a set of component cover of the glass reactor, condensers, a constant voltage funnel, a frequency conversion controller, the rotary stirring and sealing system, the stainless steel frame system, etc.
Product Features
The kettle body is made of high borosilicate glass (G-17 material), with excellent physical and chemical properties. And it is convenient to observe the reaction liquid with a transparent kettle body.
The main body adopts both stainless steel and aluminum alloy, which is elegant, sturdy and anti-corrosion.
The out layer of the stainless steel stirring rod is wrapped with PTFE, which is applicable for stirring a variety of solvents without pollution and corrosion.
The AC motor is adopted to stir, featuring stable operation, large torque, no spark and long service life.
The PTFE components and fluororubber sealing technology can guarantee a good vacuum degree and long service life.
The product is equipped with a speed governor. The rotating speed can be set through the speed control knob, intuitive and convenient.
The product can display the vacuum degree so that the optimal vacuum degree can be selected for materials with low boiling point.
With a PTFE inclined discharge valve, it's fast and convenient to recycle solvents.
Product Advantages
Constant rotating speed, no brush, no spark, safe and stable, work continuously.
Product Parameters
Basic Parameters
Model
Single layer glass reactor
Volume of the reactor bottle
5L
Glass material
GG-17
Main body
Stainless steel
Number of covered bottle
5
Reaction temperature of the reactor
-80-250℃
Degree of vacuum
0.098Mpa
Stirring speed
0-800pm
Stirring shaft diameter
8mm
Motor Power
90W
Heating power
2KW
Voltage/Hertz
220V/50Hz
Whole size
430*330*1200mm
Plate size
410*325mm
Pot gall size
Stainless steel    280*170mm
Packing size
1000*480*480
Packing weight
30kg
Function Device
Speed regulation method
Electronic variable speed
Rotating speed display mode
Number display
Pot temperature display mode
Number display
Sealing method
PTFE material seal,¢50 Flange stirring port
Condenser
Vertical 60*450mm 24#Standard port
Drop wise
500ml Constant pressure funnel 29#Standard port
Pressure reduce device
24# standard port  pressure reduce valve
Temperature test tube
24#Standard port
Collecting device
Two adapter headband with collection bottle
Vacuum display method
Vacuum table
Stirring connection method
Universal joints
Stir bar
Described stainless steel rods, outsourcing PTFE
Optional Device
Explosion-proof
Explosion-proof inverter/Explosion proof motors EX60W  0-1400rmp
Kettle temperature display
Optional digital display
Discharge device
PTFE discharge valve flange ¢ 60
Heating device
electric heating jacket heating
Our laboratory equipment can be customized according to customers actual needs .
Product Parts

Product Details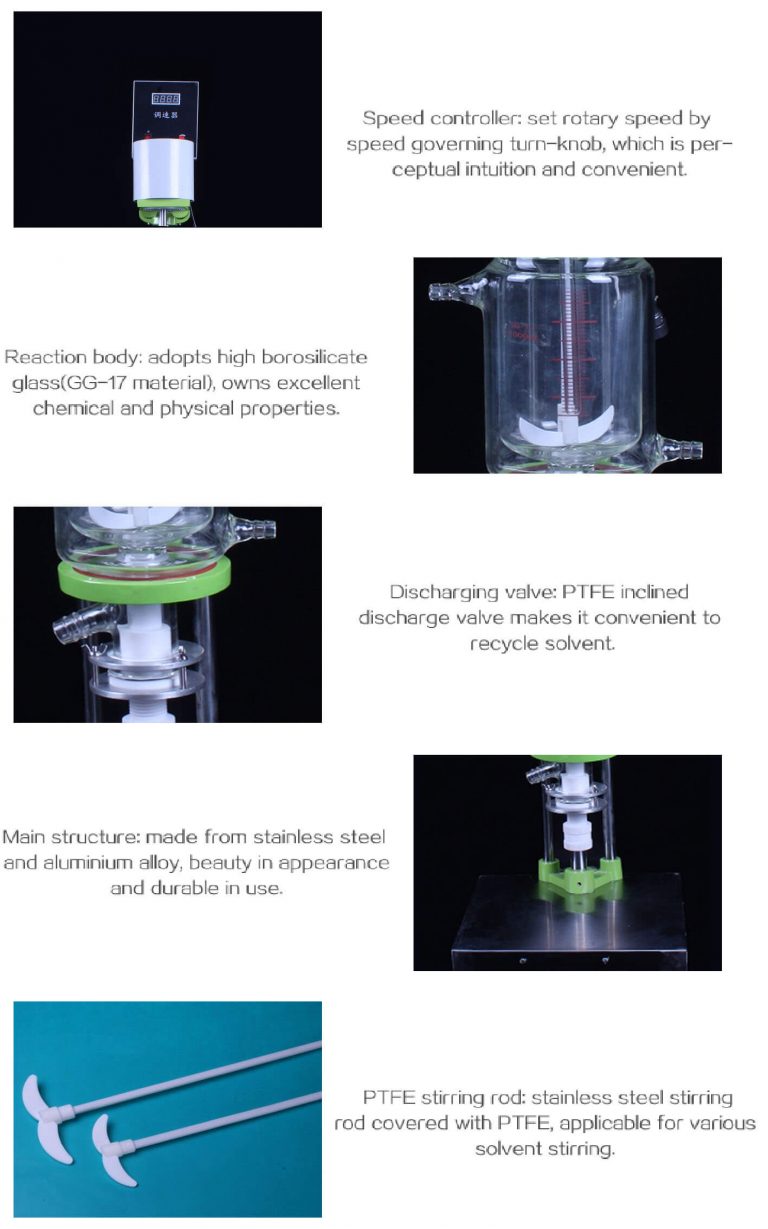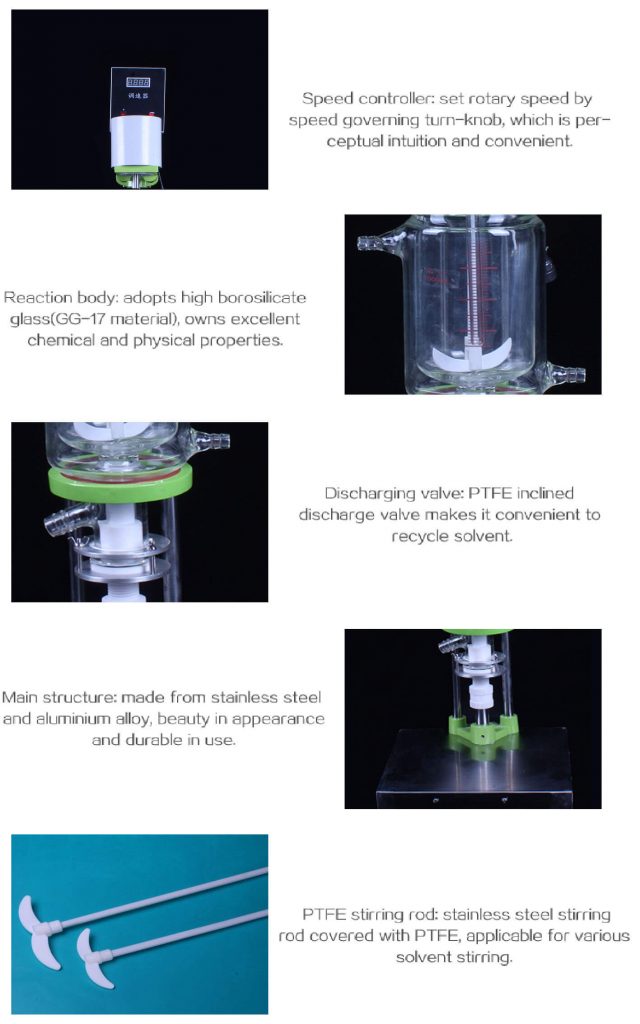 [title style="center" text="Matching Products" tag_name="h2″ color="rgba(32, 163, 219, 0.81)"] [ux_products columns="2″ ids="2868,205″] [title style="center" text="Package & Delivery" tag_name="h2″ color="rgba(32, 163, 219, 0.81)"]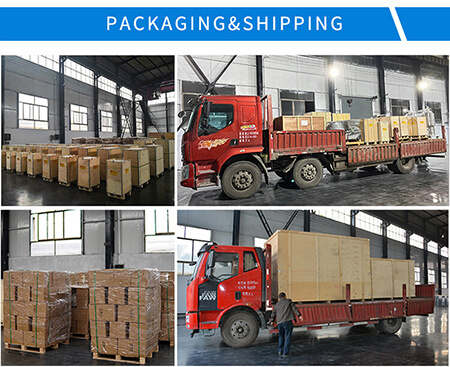 [title style="center" text="Our Service" tag_name="h2″ color="rgba(32, 163, 219, 0.81)"]
Pre-Sale Service
Provide 24-hour technical consultation and reply;
Provide professional quotation information;
Provide detailed product performance specification;
According to product's using condition, technicians will offer rationalization proposals to assist clients to select proper product types;
Provide other corollary equipment according to client requirements.
In-Sale Service
With supervision from the source of products, the qualified rate of raw materials entering the factory can reach 100%;
Whole manufacturing process are in strict accordance with promised procedure requirements, product qualified rate can reach100%;
Provide product's inspection record of key junctures to customers;
Provide production schedule photos to customers at regular intervals;
Package and transport of products are in strictaccordance with the export standard;
Provide transportation schedule information to clients timely.
After-Sale Service
Provide targeted installation video;
Under the premise of correct installation, normal maintenance and using, we guarantee one-year warranty period;
When warranty period has expired, our sold products enjoys lifetime guarantee repair, we only charge cost price for changing product's standard component and sealing component;
During installation and adjustment period, our after-sale service staff will communicate with customers frequently to know product's running state in time. Assist customers to install and adjust products until customers are satisfied;
If product has malfunction during operation period, we'll offer you satisfied answer in time. We'll reply you within 1 hour and provide solution or send staff to spot within 24 hours after receiving maintenance notification;
Lifelong free technical support. Conduct satisfaction survey and inquiry equipment running condition to clients by telephone or e-mail semiannually from the first day of equipment running, put on records of acquired information;
Provide assistance in solving problems such as equipment damage in the transport.
[title style="center" text="Send Message" tag_name="h2″ color="rgba(32, 163, 219, 0.81)"]