Description
S212-2L double-layer glass reactor's reaction flask volume is 2L, interlayer volume is 0.8L, stirring diameter of axle is 8mm, and the power of stirring is 40W.
S212-2L double-layer glass reactor is a wonderful product that has combined advantages of domestic and foreign like products. It adopts double-layer glass design, put reaction solvent in internal layer to do stirring reaction, connect different cold and heat sources(refrigerating fluid, hot water or hot oil) to interlayer to do cyclic heating or cooling reaction. Under set constant temperature condition, you can conduct stirring reaction under normal or negative pressure in airtight glass reactor, as well as conducting backflow and distillation of reaction solution.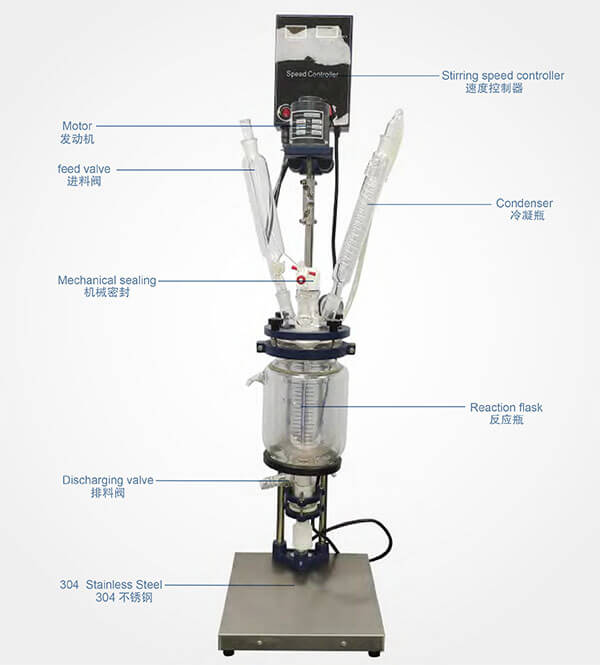 Product Details
PTFE inclined discharge valve makes it convenient to recycle solvent.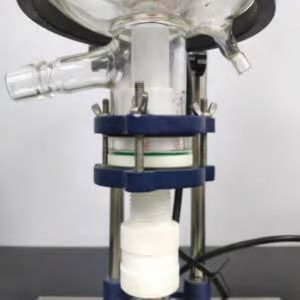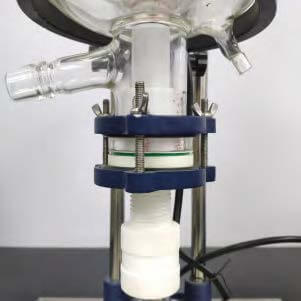 It adopts high borosilicate glass(GG-17 material), owns excellent chemical and physical properties, transparency bottle makes it easy to observe reaction liquid material.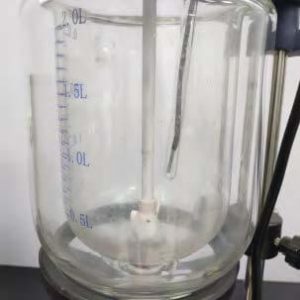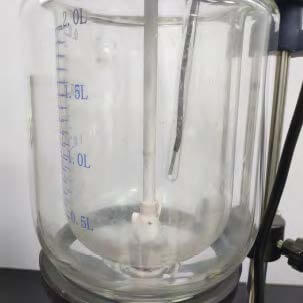 Set rotary speed by speed governing turn-knob, which is perceptual intuition and convenient.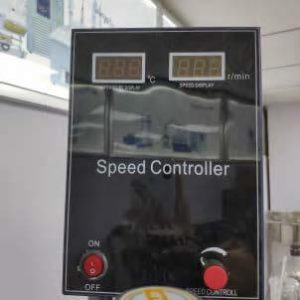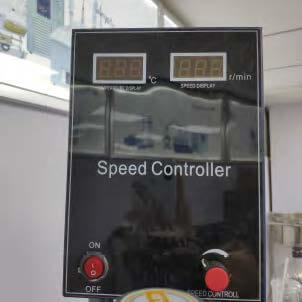 It made of stainless steel and aluminium alloy, and beauty in appearance and durable in use.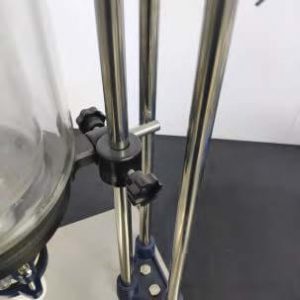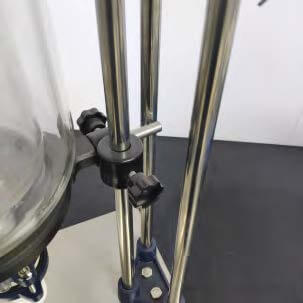 Product Parameters
Basic Parameter
Type
S212-2L
Glass material
GG-17
Main support
Stainless Steel
Reaction bottle volume
2L
Interlayer volume
0.8L
Oil in and out circulation port
Enter from low port, come out from
high port
Number of reactor bottle
5
Discharge outlet liftoff height
30mm
Reactor reaction temperature
-80-250 degree
Vacuum degree
0.098Mpa
Stirring speed
0-800rpm
Stirring diameter of axis
8mm
Stirring power
40W
Voltage/Frequency(V/Hz)
220V/50Hz
Boundary dimension
(mm*mm*mm)
350*345*1000
Baseboard Dimension(mm*mm*mm)
325*345
Package Dimension(mm*mm*mm)
1200*480*400   0.23m³
Package weight(KG)
32
Functional Configurations
Speed adjustment mode
Electric stepless speed regulation
Rotate speed display mode
Digital display
Sealing mode
PTFE sealing, ¢50 flange stirring mouth
Condenser
Vertical 40*400mm, 24# standard
mouth
Dropwise adding device
250ml constant voltage funnel, 24#
standard mouth
Depression device
24# standard mouth reducing valve
Temperature testing tube
19# standard mouth
Discharging method
Inclined PTFE discharging valve, ¢60 flange mouth
Vacuum display mode
Vacuum meter
Stirring connecting method
Universal joint connecting
Stirring bar
Anchor type and push type stainless
steel bar, covered with PTFE
Optional
Configurations
Collecting device
Can select backflow bend with collection
bottle
Anti-Explosion
Anti-explosive frequency changer,
anti-explosive electric machine EX40W  0-1400 rotate
Main frame part
Frame type, spraying plastics or
PTFE
Heat insulation device
Cotton insulation
Reactor temperature control
Can select digital display
Our company's laboratory glass and laboratory instruments are independent research and development, available
for custom-made according to client requirements.
Ready to Query? Get a quote now!
Contact us for a free quote