Description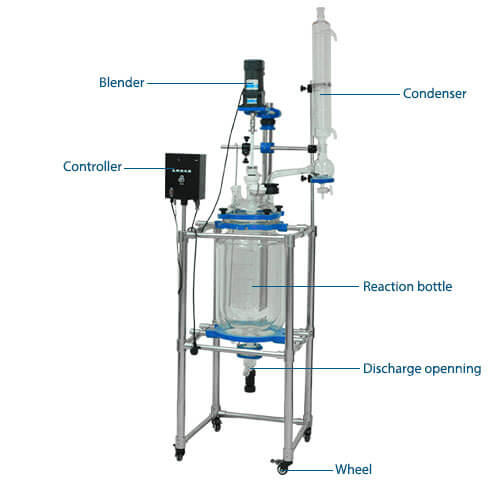 S212-20L double-layer glass reactor's reaction flask volume is 20L, interlayer volume is 8L, stirring diameter of axle is 12mm, and the power of stirring is 90W.
Product Details

Product Parameters
Basic Parameter
Type
S212-20L
Glass material
GG-17
Frame material
Stainless Steel
Pipe fitting material
304 Stainless Steel
Move method
Universal castors with braking
Reaction flask volume
20L
Interlayer volume
8L
Flange type oil in and out
circulation port
Enter from low port, come out from
high port
Number of reactor bottle
6
Discharge outlet liftoff height
450mm
Reactor reaction temperature
-80-250 degree
Vacuum degree
0.098Mpa
Stirring speed
0-450rpm
Stirring diameter of axis
12mm
Stirring power
90W
Voltage/Frequency(V/Hz)
220V/50Hz
Boundary dimension
(mm*mm*mm)
560*560*2100
Package Dimension(mm*mm*mm)
1480*660*810  0.80m³
Package weight(KG)
80
Functional Configurations
Speed adjustment mode
Electric stepless speed regulation
Electrical machine configuration
Low speed reinforcement electrical
machine, speed ratio 3:1
Rotate speed display mode
Liquid crystal digital display
Temperature display mode
PT100 sensor digital display
Sealing mode
PTFE sealing, ¢50 flange stirring mouth
Condenser
Vertical high efficiency double
backflow condenser pipe 100*670mm, 40# standard mouth
Backflow (distillation) device
Backflow elbow is equipped with
discharge switch, 50# ball milling mouth
Dropwise adding device
1L constant voltage funnel, 40#
standard mouth
Depression device
34# standard mouth reducing valve
Temperature testing tube
24# standard mouth
Solid charging
¢80 flange mouth with PTFE cover
Discharging method
Inclined glass discharging valve, ¢80 flange mouth
Vacuum display mode
Vacuum meter
Stirring connecting method
Universal joint connecting
Stirring bar
Anchor type and push type stainless
steel bar, covered with PTFE
Optional
Configurations
Main body support
Tray type
Collecting device
Collection bottle
Anti-Explosion
Anti-explosive frequency changer,
anti-explosive electric machine EX180W  0-1400 rotate
Frame part
Spraying plastics pr PTFE
Heat insulation device
Cotton insulation
Sealing part
Ceramic bearing, mechanical sealing
Condenser
Horizontal type condenser can reduce
overall height
Reactor cover
Custom-made PTFE reactor cover
Our company's laboratory glass and laboratory instruments are independent research and development, available
for custom-made according to client requirements.
FAQ
Q: What's the difference between single-layer and double-layer glass reactors?
A: The single-layer glass reactor can directly heat or cool, which is similar to the water and oil bath. But it's inferior in temperature control aspect. The double-layer glass reactor has interlayer between two layers. The water or oil can be injected through the temperature control equipment to form a circulating system. It will have a better and more accurate temperature control whether for heating or cooling.
Q: Which one to choose, single-layer glass reactor or double-layer glass reactor?
A: It depends on their differences, heating and cooling conditions.
Q: What is the glass material of the reactor?
A: Full set of glass part adopts G3.3 borosilicate glass, with excellent chemical and physical properties.
Q: What kind of circumstance is it applicable for?
A: It is applicable for a wide temperature range from -80℃ to 200℃.
Q: Is it easy to clean the reaction kettle?
A: It is convenient to clean with the large cleaning port.
Q: What kind of payment terms do you accept?
A: Normally we accept TT, Paypal, Western Union, Alibaba Escrow, and L/C. The exact term will be discussed during the deal.
Q: How will you delivery these goods?
A: It will depend on your quantity. Normally we will choose International Express, air and sea freight.
Q: How do you package products?
A: We use special cartons for packaging. If you have any special requirement, we can customize fumigation-free wooden cases as you required.
Pre-Sale Service
Provide 24-hour technical consultation and reply;
Provide professional quotation information;
Provide detailed product performance specification;
According to product's using condition, technicians will offer rationalization proposals to assist clients to select proper product types;
Provide other corollary equipment according to client requirements.
In-Sale Service
With supervision from the source of products, the qualified rate of raw materials entering the factory can reach 100%;
Whole manufacturing process are in strict accordance with promised procedure requirements, product qualified rate can reach100%;
Provide product's inspection record of key junctures to customers;
Provide production schedule photos to customers at regular intervals;
Package and transport of products are in strictaccordance with the export standard;
Provide transportation schedule information to clients timely.
After-Sale Service
Provide targeted installation video;
Under the premise of correct installation, normal maintenance and using, we guarantee one-year warranty period;
When warranty period has expired, our sold products enjoys lifetime guarantee repair, we only charge cost price for changing product's standard component and sealing component;
During installation and adjustment period, our after-sale service staff will communicate with customers frequently to know product's running state in time. Assist customers to install and adjust products until customers are satisfied;
If product has malfunction during operation period, we'll offer you satisfied answer in time. We'll reply you within 1 hour and provide solution or send staff to spot within 24 hours after receiving maintenance notification;
Lifelong free technical support. Conduct satisfaction survey and inquiry equipment running condition to clients by telephone or e-mail semiannually from the first day of equipment running, put on records of acquired information;
Provide assistance in solving problems such as equipment damage in the transport.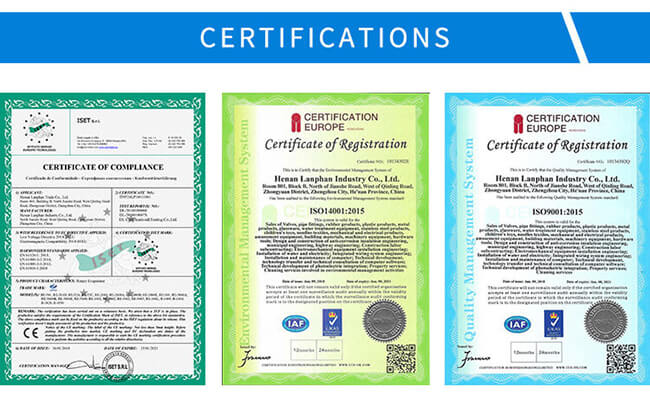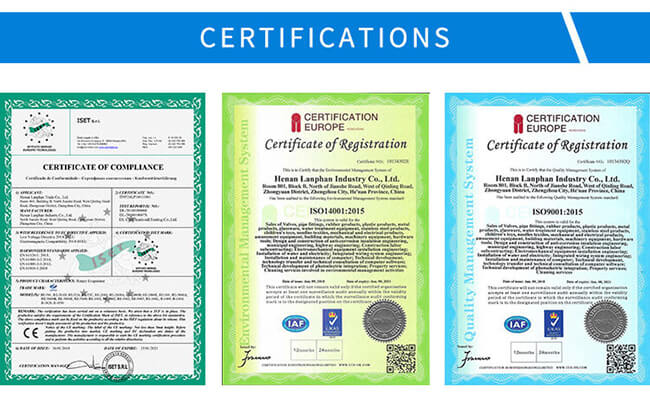 The packing case will be lined with white foam and filled with stuffing to prevent the product from breaking.
Use special wooded cases or fumigation-free wooden case for transportation.