Description
Pilot Vacuum Freeze Dryer Description
The pilot freeze-dryer can be used for food and Chinese medicinal materials.
Vacuum freeze-dryer uses advanced freeze-drying technology, working principle is the process of removing water or other solvents from frozen materials by sublimation.
The traditional drying technique will cause the material to shrink and the internal structure will be destroyed.
Vacuum freeze-drying machine is freeze-drying under low temperature conditions. The loss of some volatile components in the material is minimal. Some readily oxidized substances are also protected.
In addition, the production of microorganisms and the action of enzymes can not be carried out, so the material can maintain the original shape.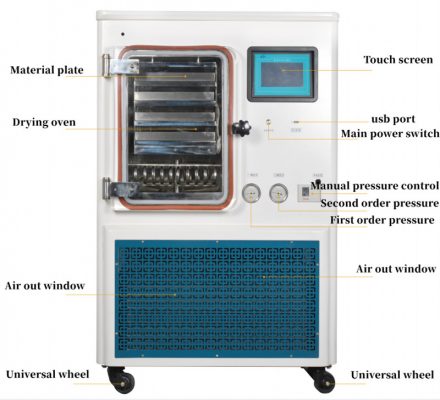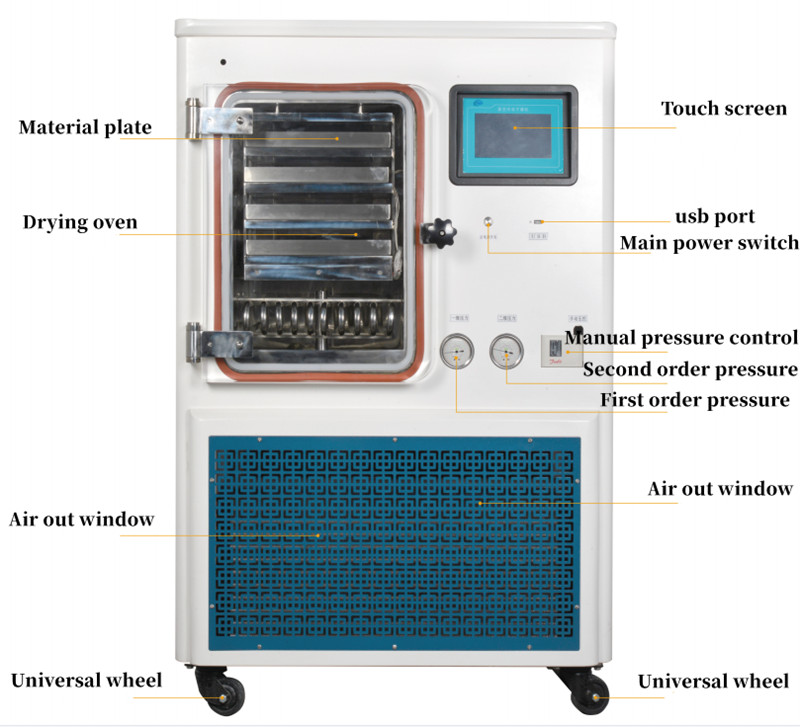 Pilot Vacuum Freeze Dryer Advantage
Vacuum freeze-drying machine is made of stainless steel, fine processing, reasonable design, durable, clean and sanitary.
With PLC as the core and touch screen as the human-machine interaction interface, the vacuum freeze-drying machine can record the temperature data in the process of freeze-drying in real time.
Vacuum freeze-drying machine is designed for vertical door and adopts waste heat recovery system. The equipment has stable structure and high working efficiency.
Vacuum freeze-drying machine adopts full automatic operation control, saving labor costs.
Vacuum freeze-drying machine can be intelligent temperature control, equipped with well-known brand compressor to save energy and reduce consumption.
It can exclude more than 95%-99% moisture from the material. Dried materials can be stored for a long time without deterioration.
Pilot Vacuum Freeze Dryer Parameter
| | |
| --- | --- |
| Product Model | ZLGJ-50 Ordinary |
| Freeze-drying area | 0.6 ㎡ |
| Cold Trap Coil Temperature | <-75℃(no load) |
| Limit Vacuum Degree | Below 10pa(no load) |
| Pumping rate | 6L/S (220V)  8L/S(380V) |
| Water catch capacity | 8kg/24h |
| Cooling Method | Air Cooling |
| Defrosting Mode | Natural Defrosting |
| Machine weight | 450kg |
| Machine Dimension | 960x785x1450(mm) |
| Total Power | 5500w |
| Material Tray | 4pcs, 350x470x30mm |
| Separator temperature range | -50℃-70℃ |
| Main Power | 220VAC 50HZ |
| Ambient temperature range | 10℃-30℃ |
| Relative Humidity | ≤70% |