Description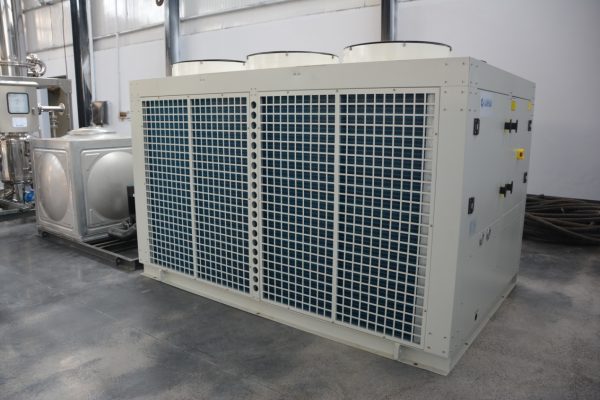 The air-cooled chiller is a kind of chiller. Used as a single machine, it mainly refrigerates normal temperature water to a certain temperature through the chiller's compressor in order to cool mould or machine better, and its cooling device is an internally installed fan. It can be used for cooling laser equipment, such as laser cutting, laser marking, laser welding machine and other industrial devices. It is suitable for laboratory equipment as well. In short, any equipment requiring cooling can use air-cooled chillers basically.
Multiple Protection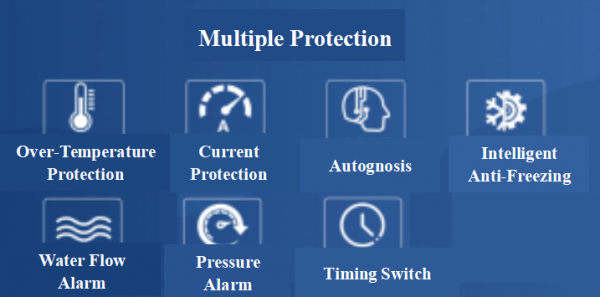 Product Features
1.The air-cooled chiller adopts air cooling method, not requiring cooling tower, cooling water pump or special machine room. It is convenient and simple to install, which can be installed on the roof, ground and other outdoor places.
2.The main engine adopts the semi-closed screw compressor, which has the advantages of high efficiency, low noise, low vibration and high reliability.
3.The air side heat exchanger is copper tube sleeve aluminum fin, manufactured by heat exchanger processing equipment imported from America. The water side heat exchanger is high efficient shell and tube heat exchanger, with the advantages of compact structure, small size, light weight, good durability, high heat exchange efficiency.
4.The axial flow fan and water pump are produced by famous and professional manufacturer. The axial flow fan is made into propeller blades by using special materials, with the advantages of high efficiency, low noise, light weight, high strength and corrosion resistance. The water pump adopts high efficient vertical centrifugal pump, featuring great lift, low noise, high efficiency. The protection grade of the fan motor and water pump motor can reach IP54, which is dust-proof, splash-proof, safe and reliable to use.
5.The air-cooled chiller (hot water) unit is controlled intelligently by microcomputer, which is energy saving, safe and reliable. With convenient operation and maintenance, it can be controlled locally or remotely. The control functions are complete. It can set, display, detect and record various parameters of unit operation and provide a great variety of protections for the unit, such as high and low voltage protection, compressor power supply phase loss and over-current protection, cold water anti-freezing protection, over-load and over-heat protection for the fan motor and water pump motor.
6.The unit adopts R134a, which is a new green refrigerant.
Product Components
Both the refrigerating unit and heat pump unit are composed of five main components:
1.Compressor
2.Condenser
3.Evaporator
4.Throttling Device (expansion valve, capillary tube, orifice plate)
5.Electric Control Part
Basic Operation Principle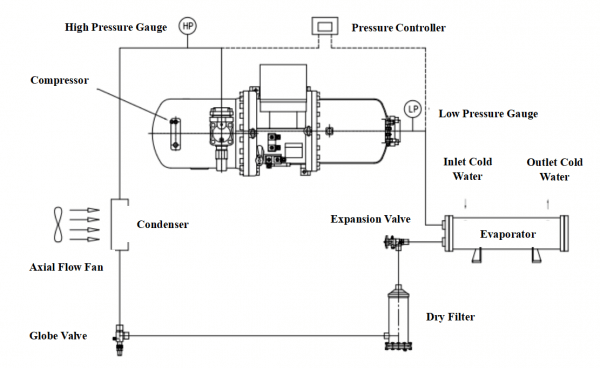 The air-cooled chiller utilizes the shell and tube evaporator to exchange heat between water and refrigerant. After the refrigerant system absorbs the heat of water and the water is cooled to cold water, the heat is brought to the finned condenser by the compressor, and then dissipated to the air outside by the cooling fan (air-cooled).
Product Parameters
Unit Model
LF-M160F
Power Supply Specification
Unit
220V/3P/60HZ
Kcal/h
129946
Nominal Refrigerating Capacity
kw
151.1
Nominal Power Consumption
kw
54.5
Nominal Operating Current
A
162
Energy Regulation Range
%
0-25-50-75-100 Four stage capacity
Form
Semi-closed double-screw type
Compressor
Quantity
piece
1
Type
R134A
Loading Level
kg
53
Refrigerant
Control Mode
Thermostatic expansion valve
Refrigerant Oil
Category
Special for compressor
Water Inlet Temperature
℃
12
Water Outlet Temperature
℃
7
Cold Water Flow
m³/h
26
Evaporator
Inlet and Outlet Aperture
DN
80
Air Inlet Temperature
℃
35
Air Outlet Temperature
℃
45
Air Volume
m³/h
9000×8
Condenser
Fan Power
kw
0.75×8
Main Configuration Table
| | | | |
| --- | --- | --- | --- |
| No.  | Name | Brand | Notes |
| 1 | Compressor | Taiwan HANBELL | |
| 2 | Oil Filter | Taiwan HANBELL | The compressor is internally installed. |
| 3 | Oil Heater | Taiwan HANBELL | The compressor is internally installed. |
| 4 | Oil Separater | Taiwan HANBELL | The compressor is internally installed. |
| 5 | Evaporator | Customized | High Efficiency Heat Exchange Tube With Internal Thread |
| 6 | Finned Condenser | Customized | Domestic Famous Brand |
| 7 | Fan + Motor | Mal | Domestic Famous Brand |
| 8 | Thermostatic Expansion Valve | ALCO | the United States |
| 9 | Dry Filter | ALCO | the United States |
| 10 | Filter Element | ALCO | the United States |
| 11 | Liquid Sight Glass | ALCO | the United States |
| 12 | Text Controller | Punp | Domestic Famous Brand |
| 13 | Electric Appliance | LS | South Korea |
| 14 | Pressure Controller | Shanghai FENGSHENG | Domestic Famous Brand |
| 15 | Refrigerant | Juhua | Domestic Famous Brand |
| 16 | Pressure Gauge | SK | Domestic Famous Brand |
| 17 | Fault or Lack Phase Protector | YANGMING | Taiwan |
Installation Interface Diagram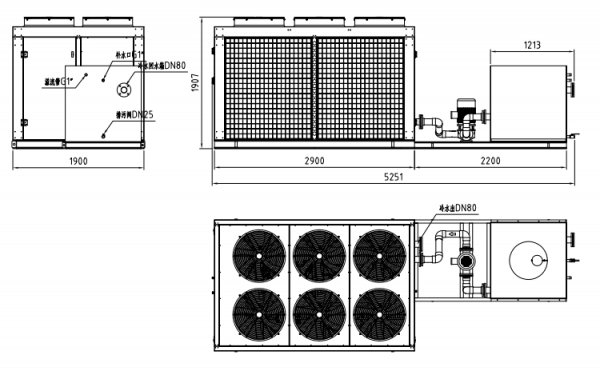 Ready to Query? Get a quote now!
Contact us for a free quote