Description
Vertical autoclaves are also known as top loading sterilizers that come in cylindrical shape.
The vertical pressure steam sterilizer consists of a shell, a sterilization barrel, a steam generator, a microcomputer control system, and a power supply system.
Vertical pressure steam sterilizer (LPLS-35HD, LPLS-50HD, LPLS-75HD, LPLS-100HD, referred to as sterilizer) is a device that uses saturated steam to sterilize items. The sterilization chamber structure of this type of sterilizer is a single-layer structure, the steam supply is heated by an intrusive electric heating tube, the gas replacement method is a lower exhaust type, the sealing structure type is a beam structure, and the control method is microcomputer control.
It is widely used in clinics, scientific research institutes and other institutions to sterilize medical equipment, dressings, fabrics, glassware, solution culture medium, etc.
First of all, the inner sterilizing bucket is taken out, and then an appropriate amount of water is added to the outer pot, so that the water surface is flat with the triangular shelf.Put it back in the sterilized bucket and fill it with the items to be sterilized. Pay attention not to pack too crowded, so as not to hinder the steam flow and affect the sterilization effect.
Insert the covered exhaust hose into the exhaust groove of the inner sterilized barrel.Then tighten the two opposite bolts at the same time in a pairwise symmetric way to make the bolt tightness consistent.
Turn on the power to heat, and open the exhaust valve at the same time, allowing the water to boil to remove cold air from the pot.After the cold air is completely discharged, close the exhaust valve, and the temperature in the pot rises gradually with the increase of steam pressure. When the pressure in the pot rises to the required pressure, control the heat source and maintain the pressure for the required time.
When the time required for sterilization is up, cut off the power supply or turn off the gas, and the temperature in the sterilization pot will drop naturally.When the pressure drops to 0, open the exhaust valve, loosen the bolt, open the cover, and remove the sterilized article.
LPLS-MA Vertical Autoclave Sterilizer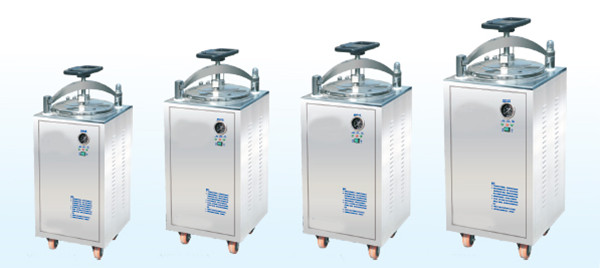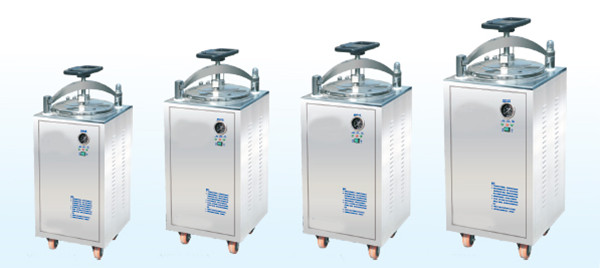 Feature
Hand wheel construction; Electric heating; Water off protection function; All stainless steel 304 material; No timing function
Parameter
| | | | | | | |
| --- | --- | --- | --- | --- | --- | --- |
| Model | Material | Volume | Power Supply | Output power | Chamber dimension | Net Weight |
| LPLS-30MA | Stainless steel | 30L | 220V | 3.5kw | 280x400mm | 47kg |
| LPLS-40MA | Stainless steel | 40L | 220V | 3.5kw | 280x400mm | 55kg |
| LPLS-50MA | Stainless steel | 50L | 220V | 3.5kw | 280x400mm | 58kg |
| LPLS-75MA | Stainless steel | 75L | 380V | 3.5kw | 280x400mm | 77kg |
LPLS-LD Vertical Autoclave Steriliaer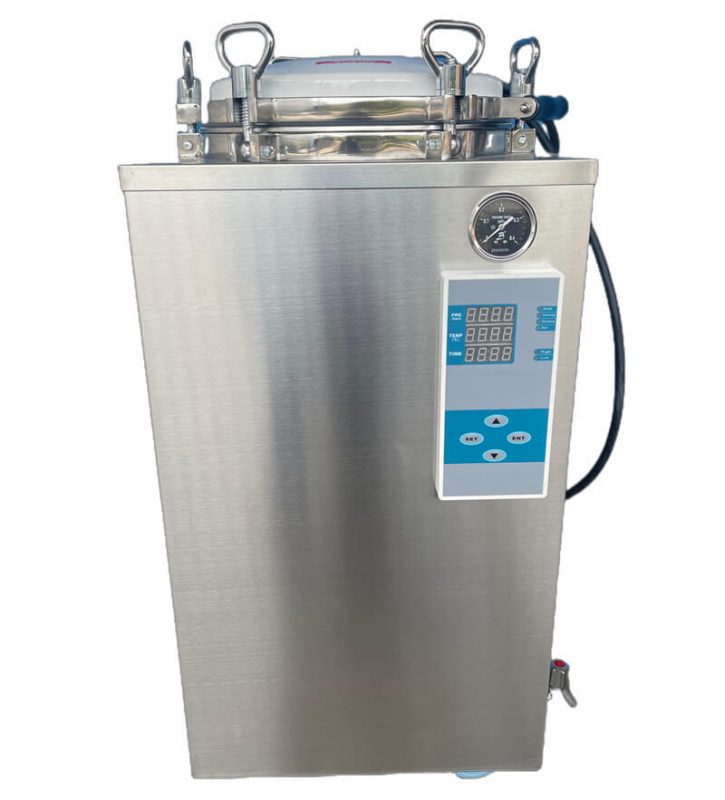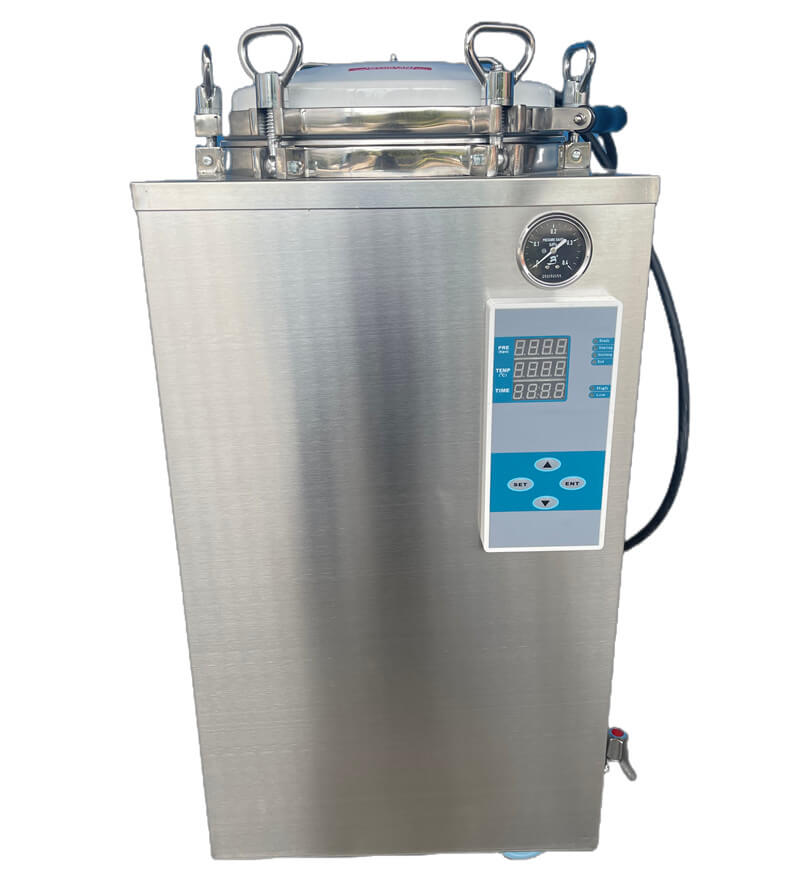 Numerical control, automatic exhaust
All stainless steel 304 material
Digital tube display
With temperature control and timing function
Model technical data

LPLS-35LD

(automatic)

LPLS-50LD

(automatic)

LPLS-75LD

(automatic)

LPLS-100LD

(automatic)

Chamber volume

35L(φ318×450)mm

50L(φ340×550)mm

75L(φ400×600)mm

100L(φ440×650)mm

working pressure

0.22MPa

Working temperature

134℃

Max working pressure

0.23 Mpa

Heat average

≤±1℃

Timer

0~99min or 0~99hour59min

Adjustment of temperature

105~134℃

Power

2.5Kw/AC220V.50Hz

3Kw /AC220V.50Hz

4.5KW AC220V.50Hz

Overall dimension

470×450×840(mm)

520×500×970(mm)

550×530×990(mm)

  580×560×1060(mm)

Transport dimension

540×540×970(mm)

580×580×1090(mm)

610×610×1110(mm)

  640×640×1170(mm)

G.W/N.W

61Kg/ 46Kg

73Kg/56Kg

87Kg/67Kg

95Kg/73Kg
LPLS-HD Vertical Autoclave Sterilizer
Hand wheel or bolt gland type
Automatic exhaust
All stainless steel 304 material
Optional drying system, LCD display, temperature control and timing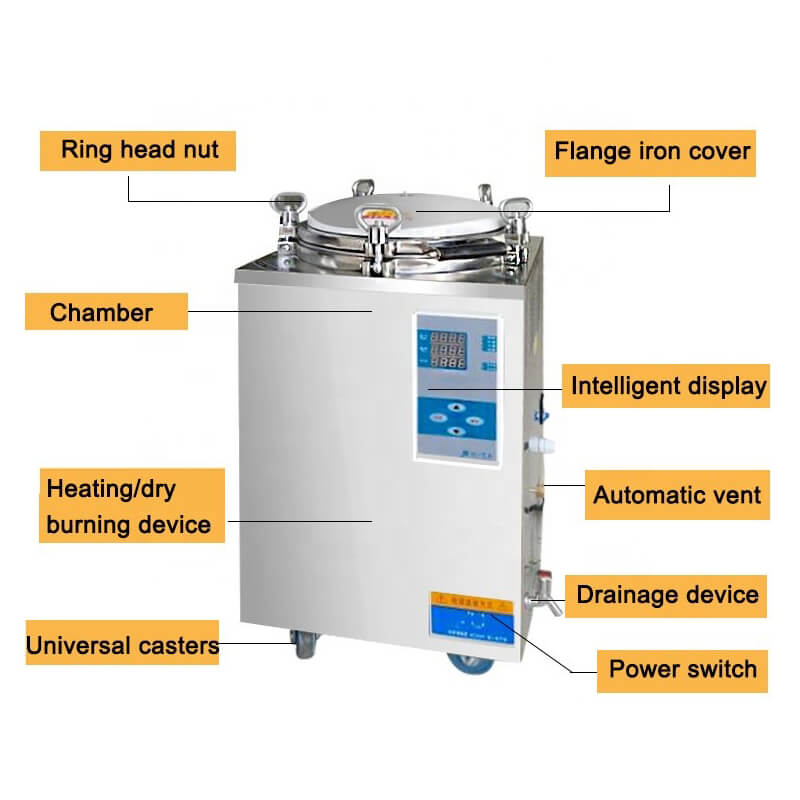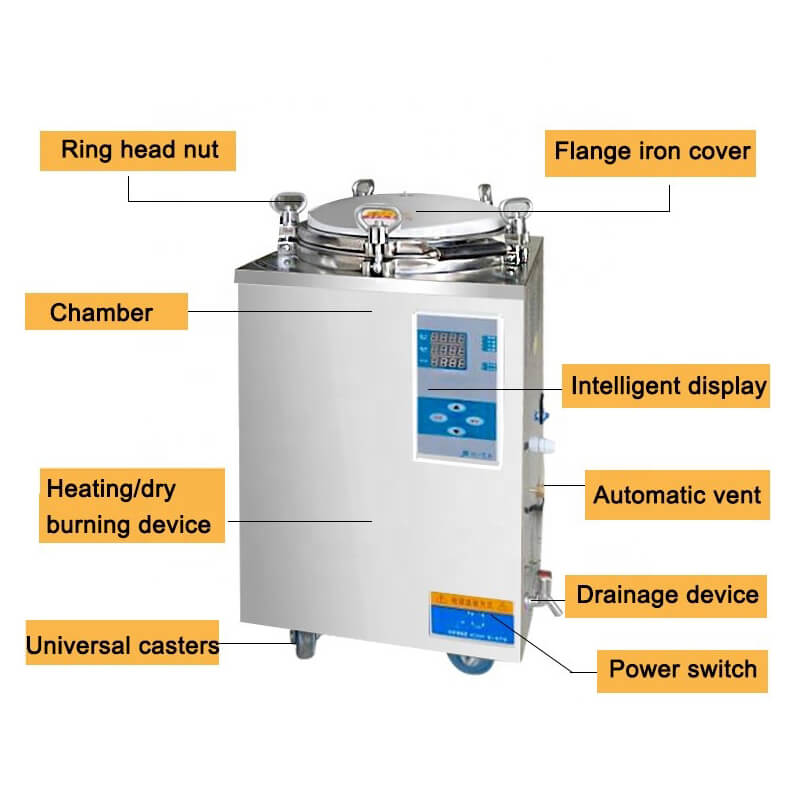 Model technical data

LS-35HD(automatic)

LS-50HDI(automatic)

LS-75HD(automatic)

LS-100HD(automatic)

Chamber volume

35L(φ318×450)mm

50L(φ340×550) mm

75L(φ400×600) mm

100L(φ440×650) mm

 working pressure

0.22MPa

Working temperature

134℃

Max working pressure

0.23 Mpa

Heat average

≤1℃

Timer

0~99min  or 0~99hour59min

Adjustment of temperature

105~134℃

Power

2.5Kw/AC220V.50Hz

3Kw/AC220V.50Hz

4.5Kw/AC220V.50Hz

Overall dimension

470×450×1020(mm)

520×500×1150(mm)

550×530×1180 (mm)

580×560×1290 (mm)

Transport dimension

540×540×1140(mm)

580×580×1250(mm)

610×610×1280(mm)

640×640×1360(mm)

G.W/N.W

    81Kg/63Kg

      94Kg/ 74Kg

    113Kg/ 93Kg

   125Kg/ 105Kg