Description
Product Description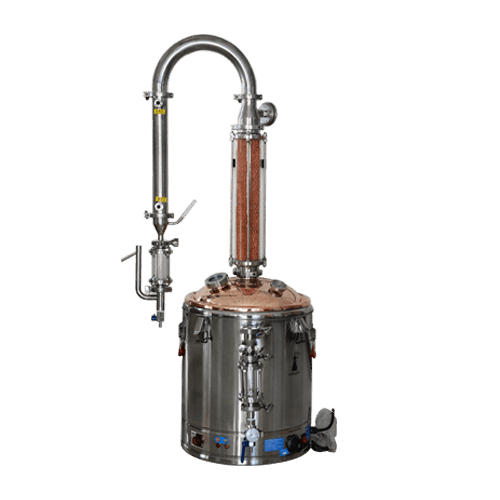 Made of stainless steel and red copper, the DW-50 Essential Oil Extractor Distiller extracts essential oil and hydrosol by steam distillation. With a modular design, it is easy to disassemble and clean without remaining impurities and bacteria easily. It is safe and healthy as well. The pure copper is used in the rectifying tower, which serves as a catalyst to promote fragrance more completely. The concentrations of active substances extracted by it is triple that of ordinary equipment. The pure copper can also replace sulfide in the fragrance, which can not only purify the hydrosol, but ensure a more sable flow rate of producing hydrosol, basically without interruption and close supervision.
Product Name: HOOLOO Stainless Steel Essential Oil Extractor
Product Brand: Lanphan
Product Specifications: DW series: 25L, 50L; CT series: 20L, 30L, 65L, 90L, 120L; ST series: 20L, 30L, 65L; Gourd type: 15L.
Product Materials: Stainless steel and red copper
Product Features
1.Exquisite and beautiful.
2.The pure copper serving as a catalyst and the design of rectifying tower can promote fragrance more completely.
3.High concentration and rapid extraction rate.
4.The flow rate of producing hydrosol is stable without interruption.
5.It is easy to clean without flavor.
Product Accessories 
Material tank (with the heating), condenser (use water for cooling), rectifying tower, thermometer, stainless steel tube, separator (glass or stainless steel), several stainless steel flange buckles.
Working Principle
There are mainly three working principles:
1.Steam Distillation Method: It is one of the most widely used methods because of simple device, easy operation and low cost. However, the relatively high operation temperature will cause the decomposition and hydrolysis of heat sensitive material in essential oil, and it's required to remove moisture in the the extracted essential oil firstly. It's complicated.
2.Solvent Extraction Method: It refers to extract ingredients in plant materials by volatile organic solvents, whose productions are extract, tincture and other components. But the organic solvent extraction may cause residual solvent, with a long extraction time and relatively low efficiency.
3.Expression Method: It means to crush and press raw materials, and squeeze volatile oils from plant tissues. Then leave them to separate into layers, and use a centrifuge to extract essential oils. The essential oils produced by the expression method can possess a high quality and keep the original fragrance. The most essential oils used for food and makeup in foreign countries are produced by cold pressing.
Product Parameters
Model
Capacity (L)
Cooling Mode
Heating Mode
Rate of Producing Hydrosol (L/h)
Voltage (V)
Power (KW) (Main)
Power (KW) (Auxiliary)
Commercial CT
CT90
90
Water Cooling
Electrical Bar (Electric Cabinet)
5 ~ 8
220/380
6
–
CT120
120
Water Cooling
Electrical Bar (Electric Cabinet)
5 ~ 8
220/380
6
–
DW
DW25
25
Water Cooling
Electric Heating Plate
2
220
1.6
1.2
DW5
50
Water Cooling
Electric Heating Plate
2.5
220
18
1.4
Household Crystal Tower Type CT
20
20
Water Cooling
Electric Heating Plate
2
220
1.8
–
30
30
Water Cooling
Electric Heating Plate
2
220
1.8
–
65
65
Water Cooling
Electric Heating Plate
3
220
2.8
–
Gourd Type
15
15
Water Cooling
Electric Pottery Stove / Gas Stove
It depends on the heating source power.
It depends on the heating source power.
Heating Power Source
–
Product Details
1. The pure copper is used in the rectifying tower, serving as a catalyst for esterification reaction in the extraction process. It can improve the effective content of aroma components in the extract.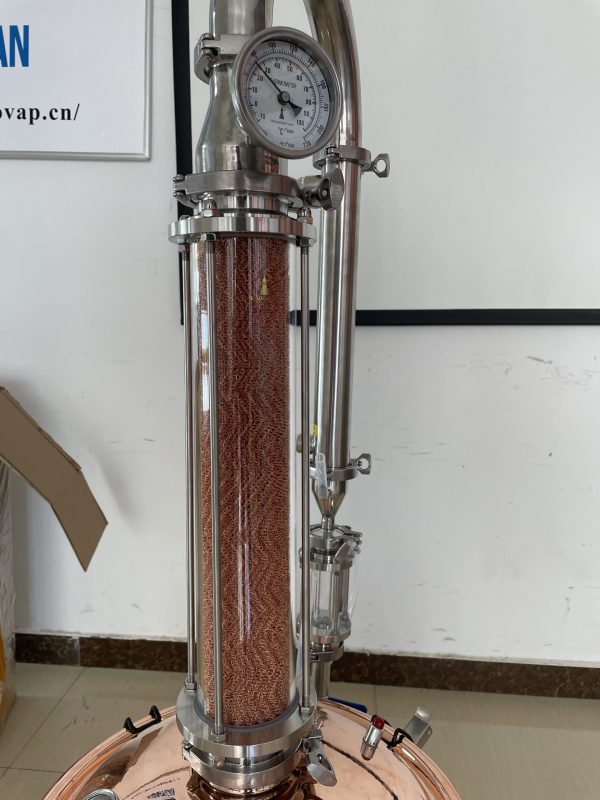 2. The safe and automatic pressure relief valve can exhaust air automatically when the pressure is above 5 Bar.
3. The one-piece forged valve can easily drain with foam removal function, which can solve the problem of overflowing.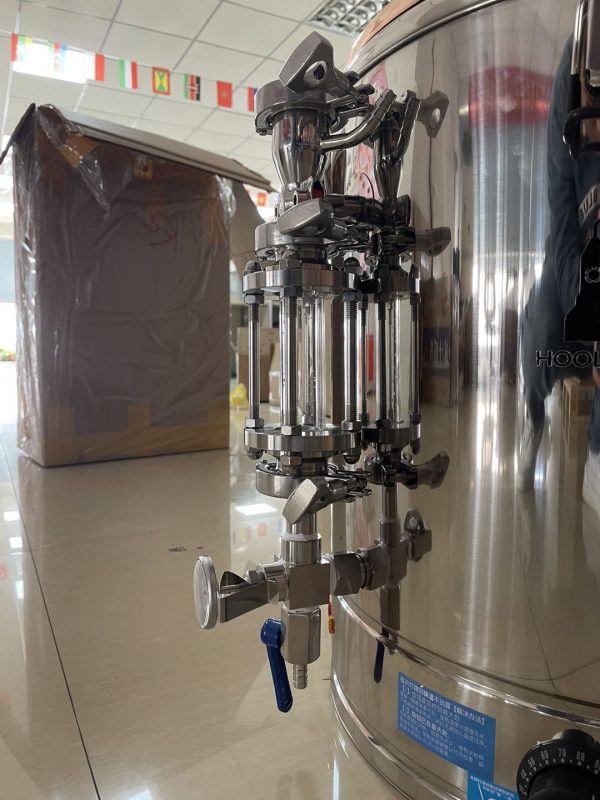 4. The dry burning prevention sensor is internally installed, safe and reliable.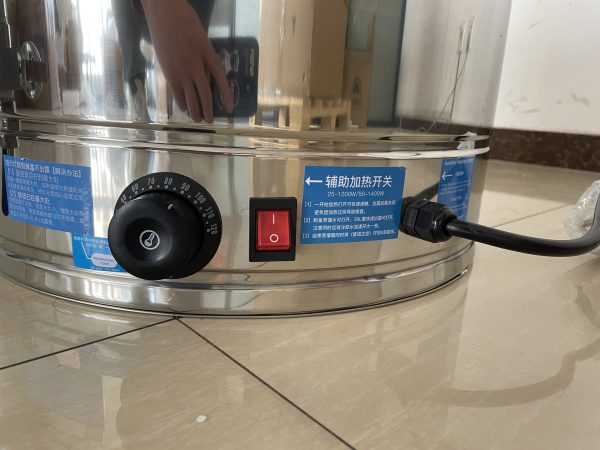 5. It is easy to obtain essential oil and hydrosol by infinite automatic separation.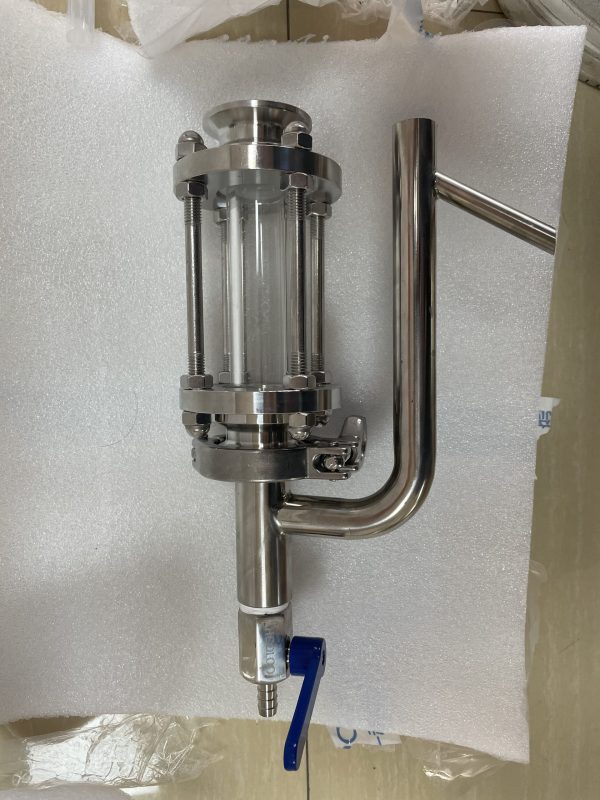 Product Advantages
1.One key operation and no human operation are time saving and reliable. The shape is exquisite and beautiful.
2.The rectification process and pure copper serving as a catalyst can promote fragrance more completely.
Application Scenarios
The product can be used not only at home, but in other places, such as beauty salon, SPA center, garden nursery, laboratory and botanical garden.
Application Guide
1.Remove the lid of the distillation tank. Then put in appropriate amount of plants and water in terms of the machine model and the corresponding instruction and cover the lid.
2.Connect the condensate pipe, put the water circulation pump into the cold water basin,plug in the power supply of the circulation pump and start the water circulation pump. The condensing system starts up.
3.Plug in the power supply of distillation and press the start button. The heating and the extraction process begin. The steam can form by water evaporation, which can extract the active ingredient when it is in contact with plants. The active ingredient will escape to the condenser along with water steam, where it liquefies. Then the liquefied ingredient flows into the separator from the outlet for essential oil and pure dew to complete the separation of essential oil and pure dew.
4.After extraction, pour out the residual materials and clean the device for next extraction.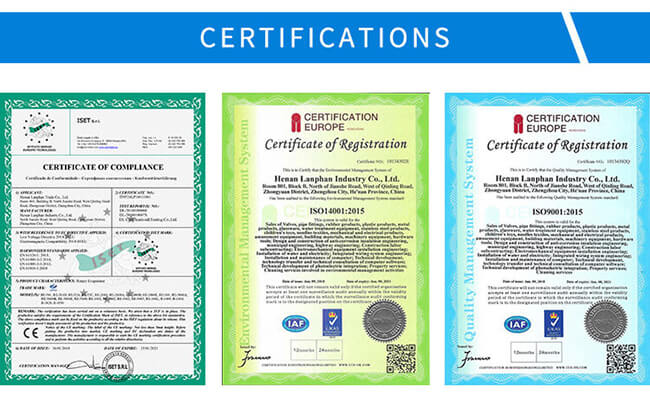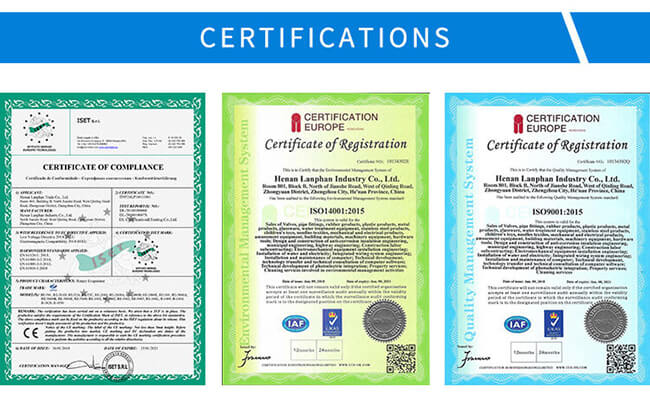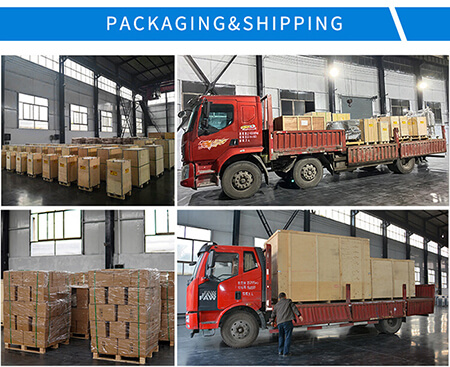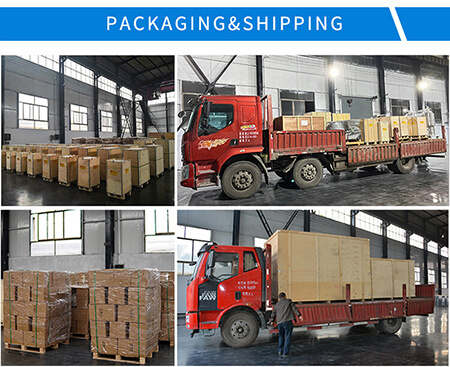 Pre-Sale Service
Provide 24-hour technical consultation and reply;
Provide professional quotation information;
Provide detailed product performance specification;
According to product's using condition, technicians will offer rationalization proposals to assist clients to select proper product types;
Provide other corollary equipment according to client requirements.
In-Sale Service
With supervision from the source of products, the qualified rate of raw materials entering the factory can reach 100%;
Whole manufacturing process are in strict accordance with promised procedure requirements, product qualified rate can reach100%;
Provide product's inspection record of key junctures to customers;
Provide production schedule photos to customers at regular intervals;
Package and transport of products are in strictaccordance with the export standard;
Provide transportation schedule information to clients timely.
After-Sale Service
Provide targeted installation video;
Under the premise of correct installation, normal maintenance and using, we guarantee one-year warranty period;
When warranty period has expired, our sold products enjoys lifetime guarantee repair, we only charge cost price for changing product's standard component and sealing component;
During installation and adjustment period, our after-sale service staff will communicate with customers frequently to know product's running state in time. Assist customers to install and adjust products until customers are satisfied;
If product has malfunction during operation period, we'll offer you satisfied answer in time. We'll reply you within 1 hour and provide solution or send staff to spot within 24 hours after receiving maintenance notification;
Lifelong free technical support. Conduct satisfaction survey and inquiry equipment running condition to clients by telephone or e-mail semiannually from the first day of equipment running, put on records of acquired information;
Provide assistance in solving problems such as equipment damage in the transport.