Description
Diaphragm Vacuum Pump for Sale
Diaphragm pump is an ideal vacuum equipment. New technology, new material, small size, light weight, stable operation and convenient movement.
Diaphragm vacuum pumps from Lanphan are the hot products. The diaphragm pump have advanced design, high work efficiency and long service life, which are widely used in medical and pharmaceutical product analysis, fine chemicals, biopharmaceuticals, food inspection and other fields. Diaphragm pumps are mainly used with rotary evaporators and precision chromatographic instruments. It is one of the necessary equipment in the laboratory.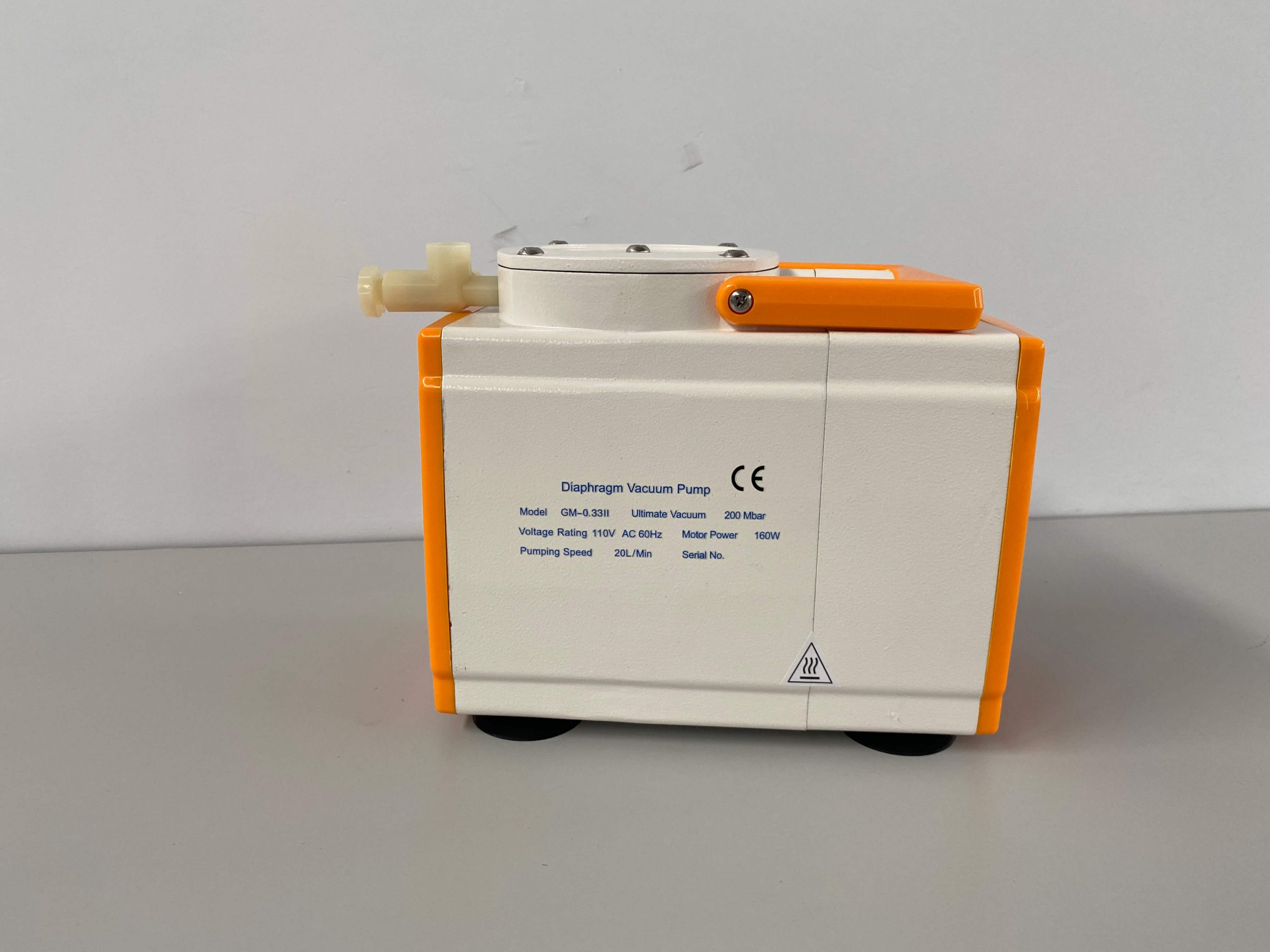 Working Principle and Application
Diaphragm pumps are a special form of positive displacement pumps. Diaphragm pumps operate oil-free and wear-free, largely avoiding contamination.
Diaphragm vacuum pumps can be used in laboratory chemical experiments, industry and other industries. Due to its process specificity, it is suitable for corrosive gases and liquids.
Diaphragm Vacuum Pump Features
Pressure-adjustable design
Handle on top of vacuum pump for easy movement
The diaphragm is made of fluorine rubber, which is corrosion-resistant and has a long service life
With self-cooling and exhaust system, 24 hours of continuous operation
No working medium is required during operation, and no pollution is generated
New technology, new material, small size, light weight, easy to move, stable operation
Maintenance
Turn off the power first before servicing.
Pay attention to the height of the liquid level when doing the experiment, and clean up the excess liquid in time to prevent sucking back.
Drain the residual gas in the pump in time to prevent equipment damage.
The continuous working time of the vacuum pump should be less than 30 minutes as far as possible.
Diaphragm Vacuum Pump Parameter
| | |
| --- | --- |
| Product Name | Diaphragm Vacuum Pump |
| Product Model | GM |
| Brand | Lanphan |
| Voltage Frequency | 220V/50Hz |
| DB | <50DB |
| Insulation Grade | B |
| | | |
| --- | --- | --- |
| Product Name | Working Efficiency | Vacuum Degree |
| GM-0.50II | 30L/MIN | 0.095Mpa |
| GM-0.2 | 12L/MIN | 0.075Mpa |
| GM-0.33A | 20L/MIN | 0.08Mpa |
| GM-0.5A | 30L/MIN | 0.08Mpa |
| GM-0.5B | 30L/MIN | 0.095Mpa |
| GM-1.0A | 60L/MIN | 0.08Mpa |
| GM-2.0 | 120L/MIN | 0.08Mpa |
| GM-0.50II | 30L/MIN | 0.095Mpa |
| GM-0.33A | 20L/MIN | 0.08Mpa |
| GM-0.5A | 30L/MIN | 0.08Mpa |
| GM-0.5B | 30L/MIN | 0.095Mpa |
| GM-1.0A | 60L/MIN | 0.08Mpa |
| GM-2.0 | 120L/MIN | 0.08Mpa |