Description
Product Description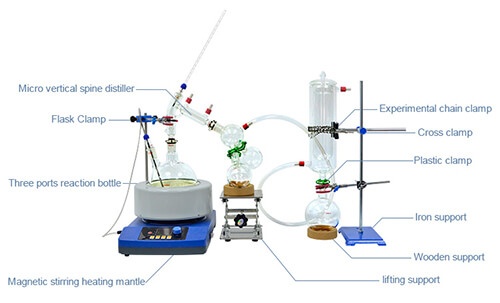 5L short path distillation kit
Basic constitution: The column cylinder is equipped with outside heating mantle, rotor and inside condenser. The fixing frame of rotor is precisely equipped with scratch film and anti-splash device. The inside condenser is placed in the center of evaporator, and the rotor should rotor between column cylinder and condenser.
Distillation process:The material should add from the top of evaporator and continuously spread to the heating surface through the material covered on rotor. Then, the scratch film is capable of scratching the material into a thin and flowing liquid film. During this process, the light molecular exceeded the heating surface form the condense liquid on inside condenser without any collision. Then, the molecular flows along the condenser tube, and discharge through the discharge tube on the bottom of evaporator. The residue liquid (heavy molecule) is collected on the circular channel under the heating zone, and flows through the discharge tube on one side.
Product Details
Glass parts are connected by frosted mouth, which is easy to operate and has good sealing.
Adopt two ports reaction bottle, with a special feeding port, which is convenient for feeding.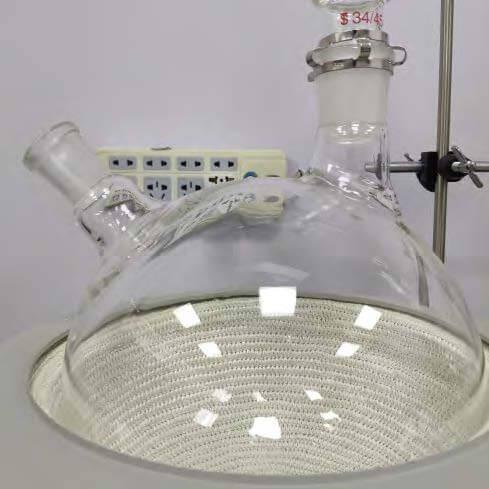 The vacuum valve can be equipped on the micro vertical spine distiller, used for vacuum pumping.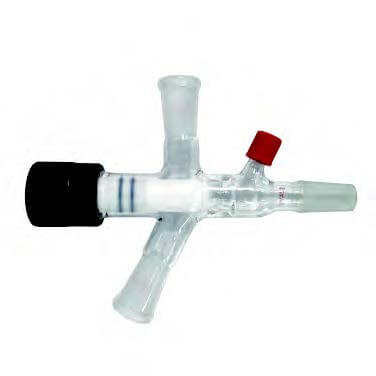 Micro vertical spine distiller, vertical spine structure, used for fractionation function;Vacuum sandwich is used to weaken the influence of wind and greenhouse to maintain the appropriate temperature gradient in the column.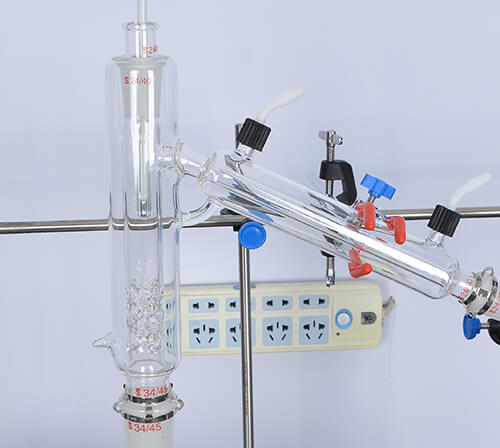 Product Parameters
Short-Path Distillation
Model
SD-2
SD-5
SD-10
SD-20
Material
G3.3
Heating Capacity(ml)
2000
5000
10000
20000
Heating temperature(℃)
Room temperature -250
Accuracy(℃)
±1
Vaccuum Degree(Mpa)
0.098
Working temperature(℃)
5-40
Voltage
220V/50Hzor110V/60Hz
380V/50Hz
Package Size
450*450*600
580*580*735
850*850*600
Weight
18
24
30
Advantages
1. The product is made of high quality borosilicate.
2. The glass parts are even and have no flaws.
3. The product is meticulous in workmanship.
4. The structural dimensions can be customized according to the customer's specific needs.
Quality Certification