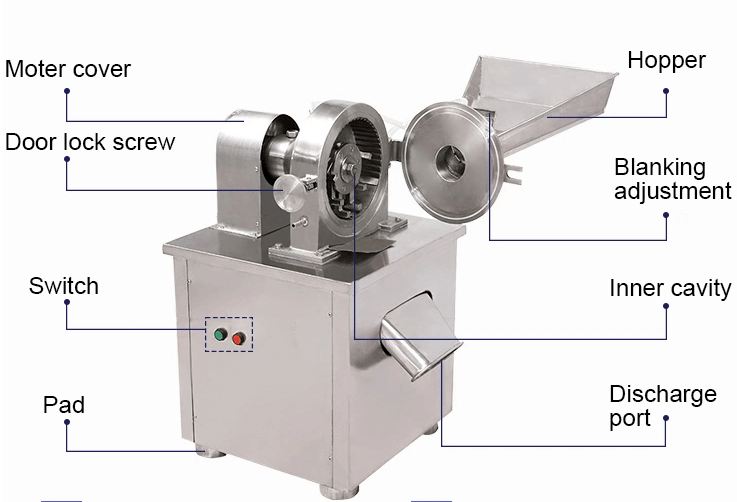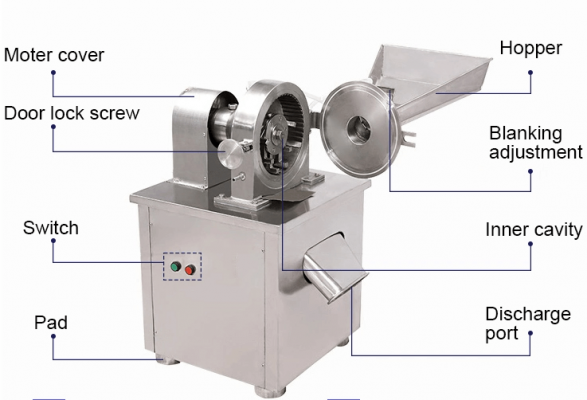 What is pharmaceutical pulverizer?
The pharmaceutical pulverizer utilizes the high-speed relative motion between the movable toothed disc and the fixed toothed disc, and achieves the purpose of pulverizing materials through the comprehensive action of tooth impact, shearing, friction and collision of materials with each other.
The machine has simple structure, stable operation, low noise and good crushing effect. The crushed materials are directly discharged from the crushing chamber. Screens with different apertures can be used to achieve different particle sizes.
pharmaceutical pulverizer features
The internal surface of the machine is smooth; the phenomenon of powder accumulation is improved; the production quality can better meet the national standard.
This pharmaceutical pulverizer is suitable for the crushing of multiple varieties and small batches of Chinese herbal medicines, precious medicinal materials, ores and chemical raw materials, especially for dry brittle materials.
This pulverizer adopts a fully enclosed muffler structure, which can effectively reduce working noise.
This machine is made of SS321 stainless steel, which has strong wear resistance and corrosion resistance.
This machine adopts impact crushing method.
precautions for use
Check whether all the fasteners of the machine are tightened before use.
The running direction of the spindle must be consistent with the direction of the arrow shown on the protective cover.
Check whether there is any hard debris in the crushing chamber of the machine, otherwise it will damage the tool and affect the operation of the machine.
Be sure to check the purity before crushing the material, and no hard metal impurities are allowed to be mixed.
The oil cup on the machine should always be filled with lubricating oil to ensure the normal operation of the machine.
Stop feeding before shutting down. The material in the machine should be removed when not in use.
Regularly check the knives and screens for damage.
The body will vibrate slightly when in use. Be sure to tighten the cover connection handle to avoid accidents.
pharmaceutical pulverizer parameters
| | | | | | | | |
| --- | --- | --- | --- | --- | --- | --- | --- |
| Model | Efficiency(kg/h) | Rotary Speed(r/min) | Feed particle size(mm) | particle size(mesh) | power(kw) | dimension(mm) | weight(kg) |
| LF-20B | 60-150 | 4500 | 6 | 60-120 | 4 | 550x650x1200 | 150 |
| LF-30B | 100-300 | 3800 | 10 | 60-120 | 5.5 | 600x750x1350 | 210 |
| LF-40B | 160-800 | 3400 | 12 | 60-120 | 11 | 700x850x1550 | 350 |
| LF-50B | 300-1000 | 2900 | 15 | 60-120 | 15 | 800x870x1780 | 500 |
| LF-60B | 500-1500 | 2900 | 15 | 60-120 | 22 | 900x900x1910 | 760 |
| LF-80B | 600-2000 | 2000 | 15 | 60-120 | 30 | 1000x950x2100 | 1000 |
[ux_products ids="2905,28739,28518,28416″]
[blog_posts style="normal" columns="3″ columns__md="1″ image_height="56.25%"]