Product Description:
The high and low temperature water bath circulation device is a two-machine integrated equipment, with two functions of a low temperature coolant circulation pump and a high temperature oil bath pot.
The electrical high and low temperature circulation device has two systems: cooling system and heating system. The two systems can work together or independently.
The entire liquid circulation system is sealed, no water vapor is absorbed at low temperature, and no oil leakage occurs at high temperature.
The equipment is widely used in colleges and universities, environmental protection, biochemical, medical, chemical, scientific research and other fields.
The product has the characteristics of reasonable structure, simple operation, stable performance and moderate price.
Product Features:
Innovative design based on low temperature coolant circulation pump and high pressure oil bath.
Adopt international original famous brand hermetic compressor, reliable quality and advanced performance.
High quality compressors and other critical components with high efficiency.
The heating device is made of pressure-resistant stainless steel, which can prevent corrosion and rust.
The equipment adopts PID intelligent control, automatically adjusts the power output according to the chemical process technology, accurately controls the temperature of the reaction process, and meets the temperature change requirements of the reaction process.
Product Parameters
Match double layer reactor
2-10L
2-10L
Storage tank volume
5L
5L
Heating volume
2L
2L
Heating tank size(mm)
¢90×270
¢90×270
Temperature Range
-20/+200℃
-40/+200℃
Best environment temperature
≤25℃
≤25  ℃
Around humidity
≤60℃
≤60℃
No-load minimum

temperature

-20℃
-40℃
Voltage and Hertz
220V±10% 50HZ
220V±10% 50HZ
Heating power
2000W
2000W
Cooling power
1956-602W
1956-602W
Meter temperature range
-100℃-400℃
-100℃-400℃
Temperature accuracy
±0.1℃
±0.1℃
Sensor
PT100
PT100
Medium viscosity
500C.S.T
500C.S.T
Circulating pump power
100w
100w
Pump head
7m
7m
Flow
20L/min
20L/min
Pressure
4Mpa
4Mpa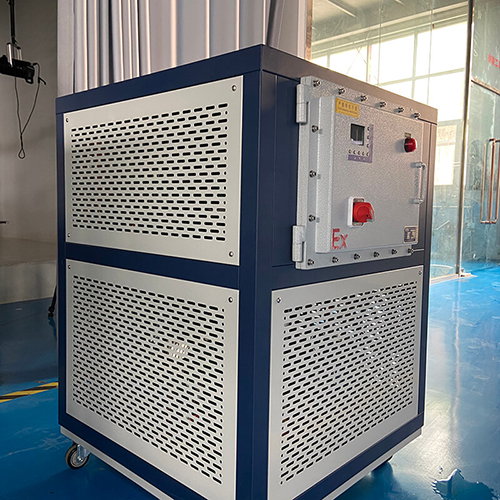 View More