Description
YH500 diaphragm vacuum pump is a kind of variable displacement type vacuum pump. It has excellent functions and is made of high-quality materials, and it can eliminate the disadvantages of similar products at home and abroad.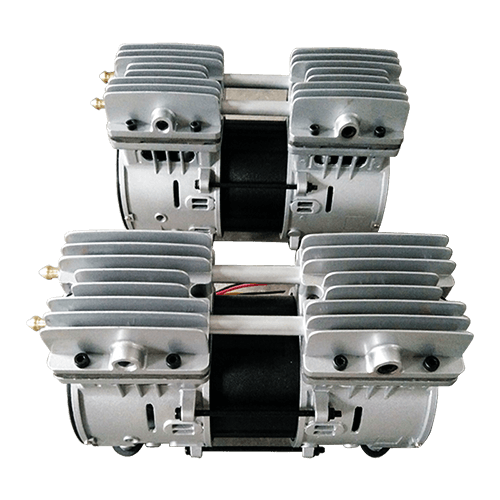 Product Features
1.No working medium (no oil) is needed, no pollution occurs, and the gas exchange chamber of the machine has built-in filter material to ensure the purity of the air.
2.New technologies and new materials are used in the production process. It is easy to move and smooth, ensuring ideal vacuum and high air flow.
3, the special motor has passed the EU CE certification, provided by the professional export motor manufacturer ODM, reasonable rotation design, equipped with a temperature protector, automatically power off after the pump body temperature reaches 130 ° C, protect the motor in long-term operation Damaged.
4, the use of friction-free film body movement, no heat, no friction loss. The diaphragm is made of imported rubber, which is corrosion resistant and has a long service life
5.The body is designed with an automatic cooling exhaust system to ensure continuous operation for 24 hours.
6. with adjustable pressure design, can meet a certain range of vacuum and gas flow rate.
7.The bearing adopts imported bearings, which is stable in operation, low in noise and high in work efficiency.
8.The parts of the anti-corrosion pump that are in contact with the gas are treated with Teflon surface, which has complete chemical resistance.
9, small size, light weight, easy to move, save laboratory space, convenient maintenance and maintenance.
Product Parameters
| | | |
| --- | --- | --- |
| Model | YH500 | YH700 |
| Voltage/Hertz | 220V/50Hz | 220V/50Hz |
| Rotating speed | ≥1390r/min | ≥1390r/min |
| Input power | ≤550W | ≤800W |
| Working temperature | 5~40℃ | 5~40℃ |
| Extremely vacuum | 700Kpa | 700Kpa |
| Volume flow | 40L/min | 56L/min |
| Size | 264.5×127×186mm | 262×128×214.5mm |
| Insulation grade | B | B |
[title style="center" text="Our Service" tag_name="h2″ color="rgba(32, 163, 219, 0.81)"]
Pre-Sale Service
Provide 24-hour technical consultation and reply;
Provide professional quotation information;
Provide detailed product performance specification;
According to product's using condition, technicians will offer rationalization proposals to assist clients to select proper product types;
Provide other corollary equipment according to client requirements.
In-Sale Service
With supervision from the source of products, the qualified rate of raw materials entering the factory can reach 100%;
Whole manufacturing process are in strict accordance with promised procedure requirements, product qualified rate can reach100%;
Provide product's inspection record of key junctures to customers;
Provide production schedule photos to customers at regular intervals;
Package and transport of products are in strictaccordance with the export standard;
Provide transportation schedule information to clients timely.
After-Sale Service
Provide targeted installation video;
Under the premise of correct installation, normal maintenance and using, we guarantee one-year warranty period;
When warranty period has expired, our sold products enjoys lifetime guarantee repair, we only charge cost price for changing product's standard component and sealing component;
During installation and adjustment period, our after-sale service staff will communicate with customers frequently to know product's running state in time. Assist customers to install and adjust products until customers are satisfied;
If product has malfunction during operation period, we'll offer you satisfied answer in time. We'll reply you within 1 hour and provide solution or send staff to spot within 24 hours after receiving maintenance notification;
Lifelong free technical support. Conduct satisfaction survey and inquiry equipment running condition to clients by telephone or e-mail semiannually from the first day of equipment running, put on records of acquired information;
Provide assistance in solving problems such as equipment damage in the transport.