Description
Product Description
The short path distillation is a technique that removes solvents form mixtures through evaporation, which is mainly used for liquid-liquid separation. The principle is that the pressure difference between the boiling film and condensing surface is the driving force of the steam flow, and the minimum pressure will cause the flowing of steam. Under the 1mbar, the operation requires that there is the shortest distance between the boiling surface and condensing surface. The evaporator manufactured based on the principle is called the short-path distillation. The distillation process can be concluded as follows:
The material should be added from the top of the evaporator and continuously spread to the heating surface through the material covered on the rotor. Then, the scratch film is capable of scratching the material into a thin and flowing liquid film. During this process, the light molecular exceeded the heating surface form the condense liquid on inside condenser without any collision. Then, the molecular flows along the condenser tube, and discharges through the discharge tube on the bottom of the evaporator. The residue liquid (heavy molecule) is collected on the circular channel under the heating zone, and flows through the discharge tube on one side.
Rotary evaporator and short path distillation are both devices for separating solvents. Short path distillation is a device used to separate sevaral different solvents from mixtures through evaporation at the same time, while rotary evaporator is used to extract one single solvent from misture. It is widely used in cannabis oil distillation and fractional distillation of cannabinoids.
Product Parameters
Best Short Path Distillation Kit
Model
SD-2
SD-5
SD-10
SD-20
Material
G3.3
Heating Capacity(ml)
2000
5000
10000
20000
Heating Temperature(℃)
Room temperature -250
Accuracy(℃)
±1
Vaccuum Degree(Mpa)
0.098
Working Temperature(℃)
5-40
Voltage
220V/50Hzor110V/60Hz
380V/50Hz
Package Size
450*450*600
580*580*735
850*850*600
Weight
18
24
30
Product Parts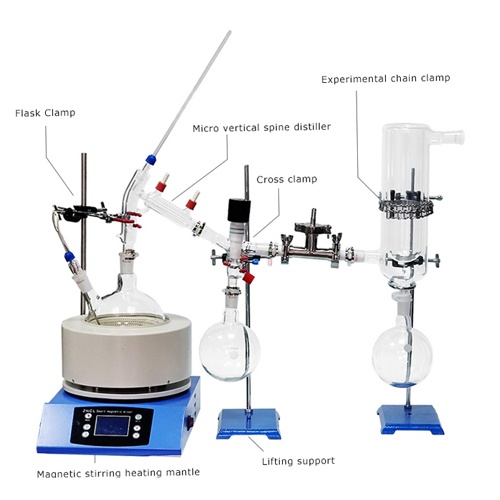 Product Details
The vacuum valve can be equipped on the micro vertical spine distiller, used for vacuum pumping.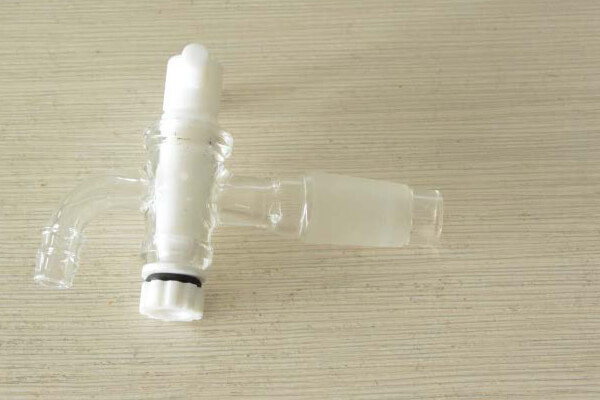 The vertical spine structure can be used for fractionation function. The vacuum sandwich is used to weaken the influence of wind and greenhouse to maintain the appropriate temperature gradient in the column.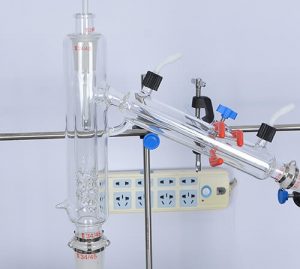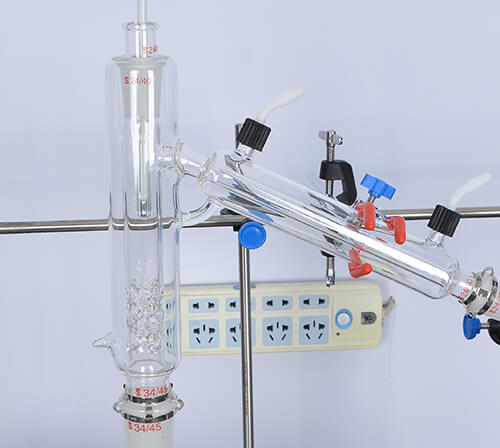 Glass parts are connected by the frosted mouth, possessing easy operation and good sealing performance.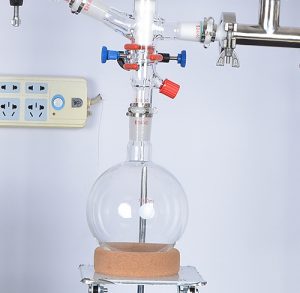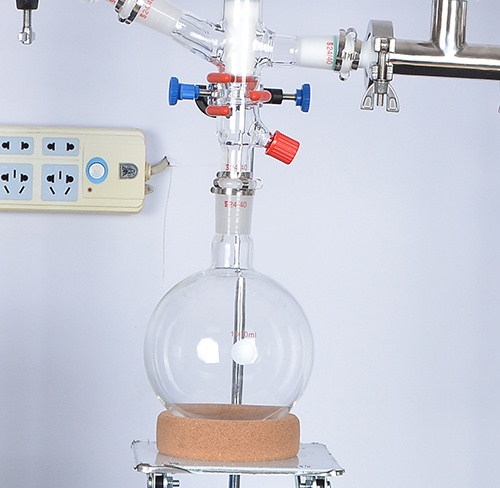 The double-mouth reaction flask is adopted, with a special feeding port, which is convenient for feeding.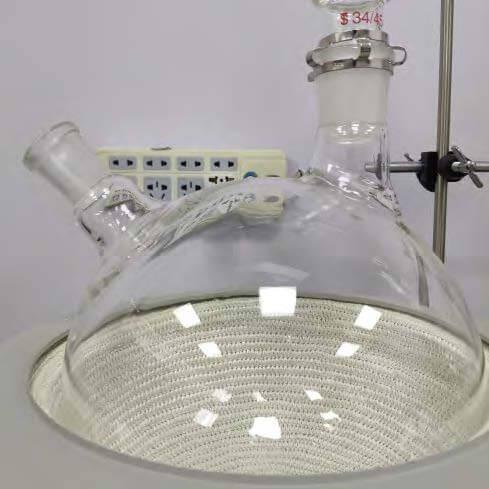 In industrial and chemical fields, people always need to extract some solvents or purify some substances. There are several ways achieving those purposes and short path distillation is one of them. Short path distillation is a technique that removes solvents from mixtures through evaporation. Short path distillation is mainly used for liquid-liquid separation.
Quality Certification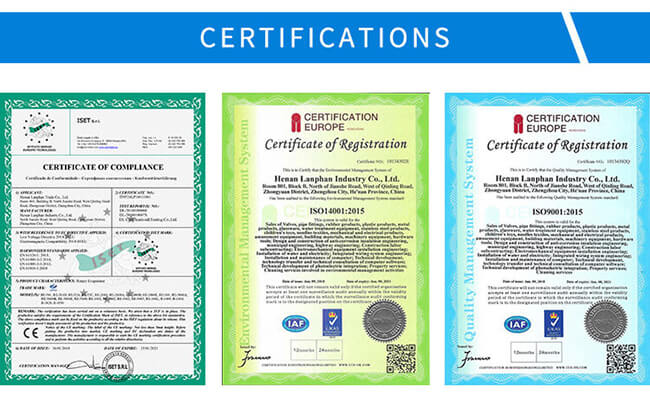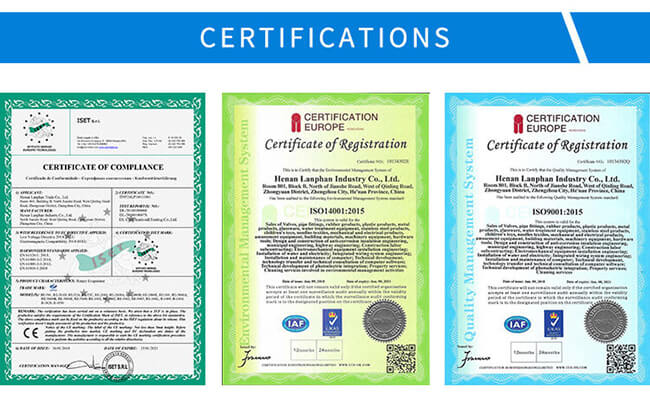 Pre-Sale Service
Provide 24-hour technical consultation and reply;
Provide professional quotation information;
Provide detailed product performance specification;
According to product's using condition, technicians will offer rationalization proposals to assist clients to select proper product types;
Provide other corollary equipment according to client requirements.
In-Sale Service
With supervision from the source of products, the qualified rate of raw materials entering the factory can reach 100%;
Whole manufacturing process are in strict accordance with promised procedure requirements, product qualified rate can reach100%;
Provide product's inspection record of key junctures to customers;
Provide production schedule photos to customers at regular intervals;
Package and transport of products are in strictaccordance with the export standard;
Provide transportation schedule information to clients timely.
After-Sale Service
Provide targeted installation video;
Under the premise of correct installation, normal maintenance and using, we guarantee one-year warranty period;
When warranty period has expired, our sold products enjoys lifetime guarantee repair, we only charge cost price for changing product's standard component and sealing component;
During installation and adjustment period, our after-sale service staff will communicate with customers frequently to know product's running state in time. Assist customers to install and adjust products until customers are satisfied;
If product has malfunction during operation period, we'll offer you satisfied answer in time. We'll reply you within 1 hour and provide solution or send staff to spot within 24 hours after receiving maintenance notification;
Lifelong free technical support. Conduct satisfaction survey and inquiry equipment running condition to clients by telephone or e-mail semiannually from the first day of equipment running, put on records of acquired information;
Provide assistance in solving problems such as equipment damage in the transport.