Product Description
2XZ series rotary vane vacuum pump is a double stage high speed direct coupling structure rotary vane type vacuum pump, which is the basic equipment used to pump gas of the sealing container. Pump cavity is provided with a rotor, the rotor slot with rotary vane. The rotor drives the rotary vane rotation, the rotary vane close to the chamber wall and separated air inlet port from the discharge port, and the air inlet area of cavity volume is periodically enlarged and inhale, discharge chamber volume is periodically reduced and compressed gas, open the exhaust valve to exhaust gas and then to obtain vacuum. Its working performance is composed of two parts, the high level and low level. Its suction is connected with vacuum equipment, when in operation The gas in container will have a large number of suction and discharge, when the equipment got vacuum, high pressure grade exhaust valve is closed, high-pressure grade inlet gas will be transferred to the second level, and through the second stage suction and discharge vacuum equipment, it can obtain a certain vacuum. Pump connecting shaft with motor, high speed, small appearance, compact structure, convenient mobility work.
Pumping rate: 0.25~30L/S
Gas type: Clean dry air without any other mixture at ambient temperature.
Working requirements:
when the inlet pressure is greater than 6500Pa, continuous working hours must not be more than 3 minutes so that avoid fuel injection to damage pump.
When the inlet pressure is less than 1330pa, it is allowed to work continuously for a long time.
Ambient temperature: 5℃-40℃, the relative temperature is not higher than 90%.
  Specifications
ParameterModel
2xz-0.25
2xz-0.5
2xz-1
2xz-2
2xz-4
2xz-6
2xz-8
2xz-15
2xz-25
Air bleed speed m³/h(L/S)
50HZ
0.9(0.25)
1.8(0.5)
3.6(1)
7.1(1)
14.4(4)
21.6(6)
28.8(8)
54(15)
90(25)
60HZ

1.1(0.3)

2.1(0.6)

4.3(1.2)

8.6(2.4)

17.2(4.8)

26(7.2)

34.5(9.6)

64.8(18)

108(30)

Extreme pressure(Pa)

partial pressure

≤6×10-1

≤6×10-2

≤6×10-2

≤6×10-2

≤6×10-2

≤4×10-2

≤4×10-2

≤4×10-2

≤4×10-2

full presure

≤6.5

≤1.33

≤1.33

≤1.33

≤1.33

≤1

≤1

≤1

≤1

Ritating speed(r / min)

50HZ

1400

1400

1400

1400

1400

1400

1400

1400

1400

60HZ

1720

1720

1720

1720

1720

1720

1720

1720

1720

Motor power(kw)

0.12

0.18

0.25

0.37

0.55

0.75

1.1

1.5

2.2

Noise(dBA)

63

65

65

68

68

68

70

70

72

Oil volume(L)

0.5

0.6

0.7

1

1.2

2

3

4

5

Size(mm)

403 * 130 * 240

447 * 168 * 260

469 * 168 * 260

514 * 168 * 282

565 * 168 * 282

565 * 200 * 342

650 * 240 * 430

700 * 240 * 430

770 * 240 * 430

GW / NW(KG)

16/15

17/16

18/17

22/20

24/22

50/40

70/60

75/86

85/98
  Model Meanings


2: It represents the two-stage pump.
X: It represents the rotary vane vacuum pump.
Z: It represents the coupling between the pump and the motor.
number: It represents the pumping rate per second.
  Structure Diagaram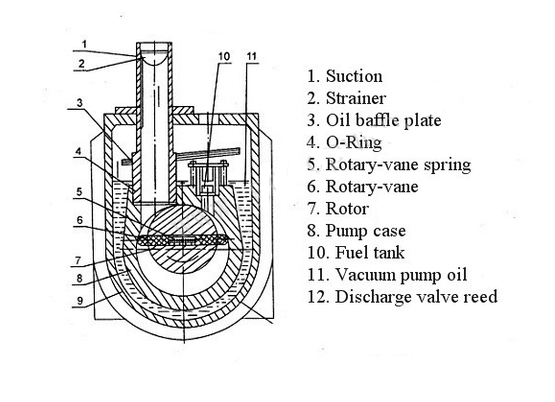 Product Details
1. There is an air inlet, an air outlet, an oil inlet and a switch, which is a reasonable layout and easy to operate.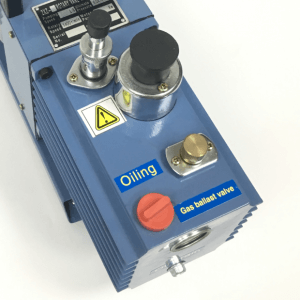 2. The motor adopts the double capacitor design, operating more safer.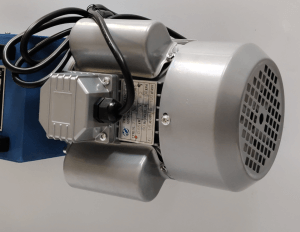 3. There is a large sightglass for observing the oil level at any time.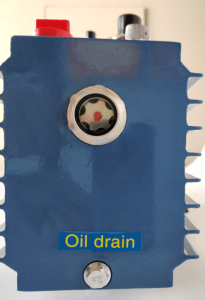 4. The optional oil mist filter can filter out the oil fume and splashes from the air inlet, and discharge clean gas.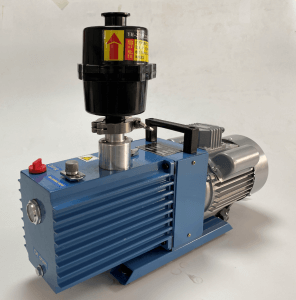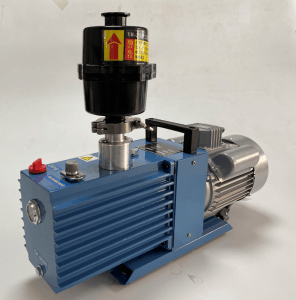 Optional adapterApplications
2XZ Series Rotary Vane Vacuum Pump is widely used in aerospace, semiconductor, coating, food packaging, drying, refrigeration, scientific research, medical, electronic, chemical, pharmaceutical and other professional units, colleges, universities and other departments of the laboratory.
  Our Services
  Pre-sale Service
1. Provide 24-hour technical consulting reply;
2. Provide professional quoted price;
3. Provide detailed product performance specification;
4. According to product's using condition, technicians will offer rationalization proposals to assist clients to select proper product types;
5. Provide other corollary equipment according to client requirements.
  In-sale Service
1. Begin to supervise from raw material, its qualified rate can reach to 100%;
2. Whole manufacturing process are in strict accordance with promised procedure requirements, product qualified rate can reach to 100%;
3. Provide product's inspection record of key junctures to customers;
4. Provide production schedule photos to customers at regular intervals;
5. Package and transport products strictly accordance with export standard;
6. Provide transportation schedule information to clients timely.
  After-sale Service
1. Provide targeted installation video;
2. Under the premise of correct installation, normal maintenance and using, we guarantee one-year warranty period;
3. When warranty period has expired, our sold products enjoys lifetime guarantee repair, we only charge cost price for changing product's standard component and sealing component;
4. During installation and adjustment period, our after-sale service staff will communicate with customers frequently to know product's running state in time. Assist customers to install and adjust products until customers are satisfied;
5. If product has malfunction during operation period, we'll offer you satisfied answer in time. We'll reply you within 1 hour and provide solution or send staff to spot within 24 hours after receiving maintenance notification.
6. Lifelong free technical support. Conduct satisfaction survey and inquiry equipment running condition to clients by telephone or e-mail semiannually from the first day of equipment running, put on records of acquired information;
7. Provide assistant service if product is damaged during transportation.
  FAQ
1. Q: What kind of gas is not suitable for 2XZ series of rotary vane vacuum pump to pump out?
A: Corrosive to the metal, the chemical reaction to the pump oil, containing particles of dust, high oxygen content, explosive, and toxic gases.
2. Q: The working environment of 2XZ series of rotary vane vacuum pump?
A: 5℃-40℃, the relative temperature is not higher than 90%. When the inlet pressure is less than 1333pa, it is allowed to work continuously for a long time.
3. Q: How to delivery the product?
A: According to the quantity. It is always by Express, by sea, by air.
4. Q: What is the minimum quantity?
A: 1 set at present.
5. Q: What is the payment terms?
A: T/T, Paypal, Western Union, Ali credit insurance, L/C etc.
  Advantages
1. Small size, light weight, low noise;
2. Easy to start;
3. It has gas ballast valve, which can remove a small amount of water vapor;
4. Equipped with automatic anti back oil double insurance device;
5. Can be used alone, can also be used as the fore stage pump and pre pump of varieties of high vacuum system.