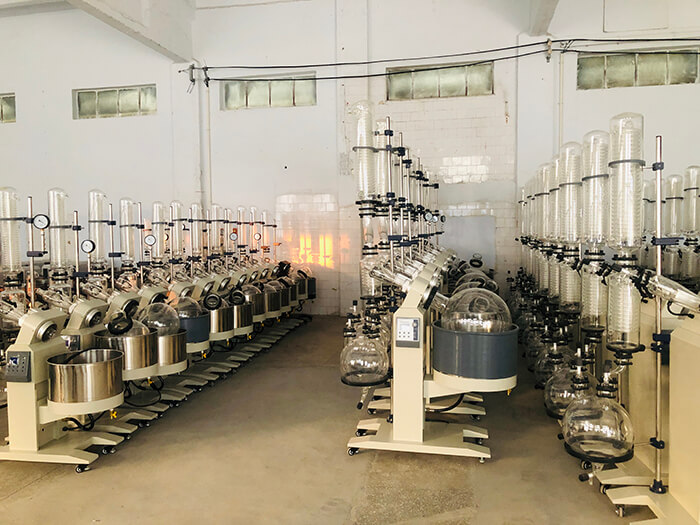 What are Advantages of a Rotary Evaporator?
The rotary evaporators are essential laboratory equipment for concentration, crystallization, drying, separation and solvent recovery in pharmaceutical,chemical and bio-pharmaceutical fields and other fields. The basic working process can be described below. The rotating flask is heated thermostatically and can rotate at a constant speed. Then the material forms a large area of thin film on the inner surface of the flask. The solvent vapor is recycled in the collecting bottle after being cooled by high-efficiency glass condenser, which greatly improves the evaporation efficiency. A rotary evaporator is especially suitable for the concentration and purification of biological products which are easy to decompose and denature at high temperature.
According to what we mentioned above, there are a great number of advantages of our rotary evaporators, as follows.
1. Higher evaporation efficiency.
There are several factors contributing to higher evaporation efficiency. Firstly, the rotating flask can rotate at a constant speed, and materials can form a widespread film on the inner surface of the flask, which improves the evaporation efficiency greatly. Secondly, the high-efficiency can improve the evaporation efficiency as well. Last but not least, continuous feeding and high vacuum degree are another factors.
2, Better security.
The stainless steel and aluminum alloy are widely used in the mechanical structure, and all glass parts are made of heat-resistant high borosilicate glass, which ensure a better security. Besides, the water/oil bath can be equipped with transparent covers to prevent splashing, and anti-explosion frequency changer and dynamo are available as well. All of these designs contribute to better security.
3. More convenient operation.
It's much more convenient to use a rotary evaporator, because of the electrodeless speed regulation, digital display K Type Sensor and intelligent temperature control and other designs adopted by it.
Related Articles:
Related Products: