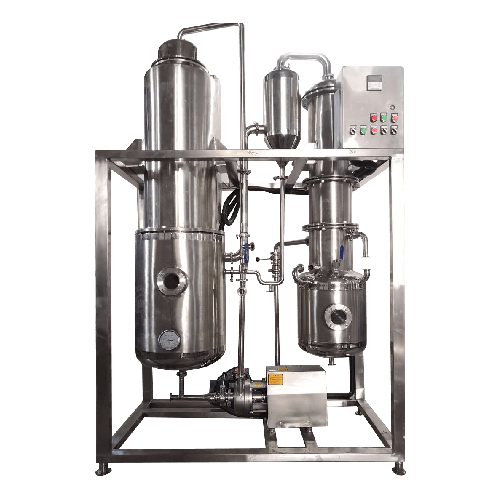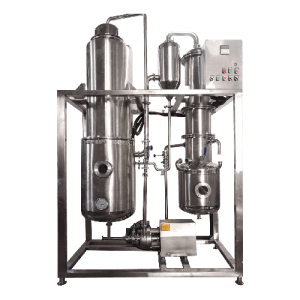 Applications of Falling Film Evaporators
As the high efficient evaporation equipment, falling film evaporators are more and more well-received. It's widely used in a great number of fields, such as the pharmaceutical, food, chemical, light fields and other fields for the evaporation and concentration of water and organic solvents. And falling film evaporators are especially suitable for the evaporation and concentration of thermal sensitive materials. It can operate continuously under the conditions of vacuum and low temperature, featuring the high evaporation efficiency, energy conservation and low operating cost. As well, materials can be ensured not to change easily during the evaporation. In the following parts, the main applicable fields of falling film evaporators will be introduced in detail.
1. Falling Film Evaporators are Applied in Food Field.
Many of the natural foods contain about 78 to 87% of water, and one of the means used to remove most of the water is evaporation and concentration. Falling film evaporatorS are very popular in evaporating and concentrating water out of food. The technology to remove water in the food industry has a long history, but the problems are far more complicated than the evaporation and concentration of most chemical products, because the final product not only focuses on physical properties, chemical properties, but also focuses on biological and sensory testing and evaluation. There are many parameters that are difficult to define so far, such as taste, smell, color and tissue state, etc., which should be considered in process design and equipment design. Falling film evaporator is widely used by people to remove water from many kinds of food.
2. Falling Film Evaporators are Applied in Vc Industry Field.
The single effect graphite tube rising film evaporator concentrates the vitamin C raw material, which not only has good product quality, but also reduces operating costs and maintenance costs. The use of falling film evaporator is very meaningful for promoting the development and technological progress of the vitamin C industry.
What is the Principle of Falling Film Evaporator?
The materials are added from the upper part of the heating tube. They are evenly distributed into each falling film pipe through the distributor, and flow down the wall of the pipe in the state of a liquid film. Under the action of gravity and the secondary steam flow, the materials get evaporated while flowing down. At the bottom of the falling film tube, the materials and secondary steam are basically separated, and they reach the separation chamber to achieve complete separation.
Related Articles:
Related Products: