Falling film evaporator working principle
Falling film evaporator is an efficient one-way non-circulating membrane evaporator. Its working principle makes that falling film evaporator has the characteristics of high heat transfer efficiency, low temperature difference loss, short heating time, non-deterioration, easy multi-effect operation, low energy consumption and small equipment volume. It is widely used in chemical industry, medicine, light industry and food industry.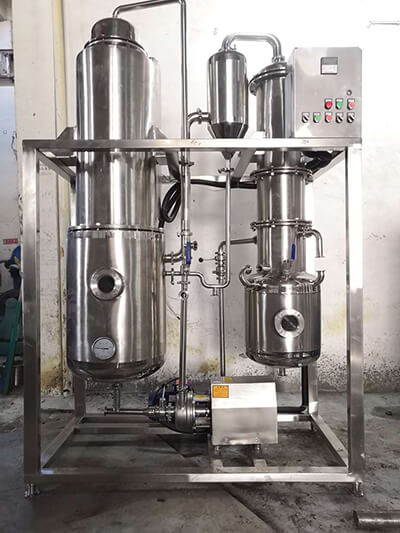 Falling film evaporation is to add the liquid to the upper tube of the heating chamber of the falling film evaporator. Through the liquid distribution and film forming device, it is evenly distributed into the heat exchange tubes. Under the action of gravity and vacuum induction and air flow, it forms a uniform film from the top to the bottom. During the flow, it is heated and vaporized by the shell-side heating medium. The generated steam and the liquid phase enter the separation chamber of the evaporator. The vapor-liquid is sufficiently separated, and the steam enters the condenser for condensation (single-effect operation) or enters the next-effect evaporator. The medium is heated to achieve multi-effect operation, and the liquid phase is discharged from the separation chamber.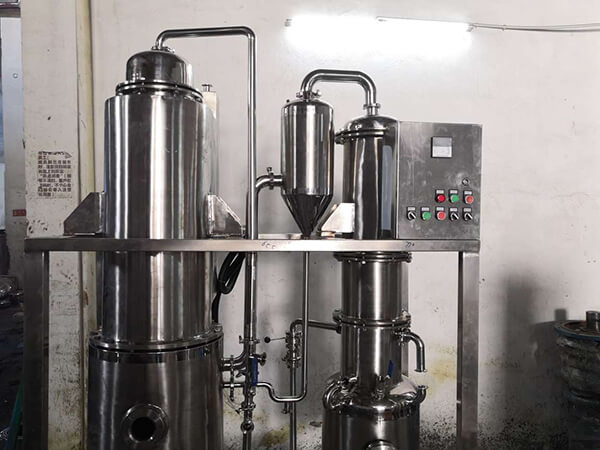 Parts of a falling film evaporator
Falling film evaporator system consists of evaporator which is to get sample liquid evaporated, separator which is to separate extracted solvents and mixtures, condenser which is to condense substances, hot-press pump which is to provide pressure, sterilizer which is to sterilize substances, insulating pipe which is to insulate substances, vacuum and drainage system which is to provide vacuum and drain water , feed-liquid conveying pump which is to feed the whole equipment with sample, distributor cylinder which is to distribute substances, operating platform which is control platform, electrical instrument control cabinet which is to control the whole equipment, valve and pipeline which is the access of tubes.