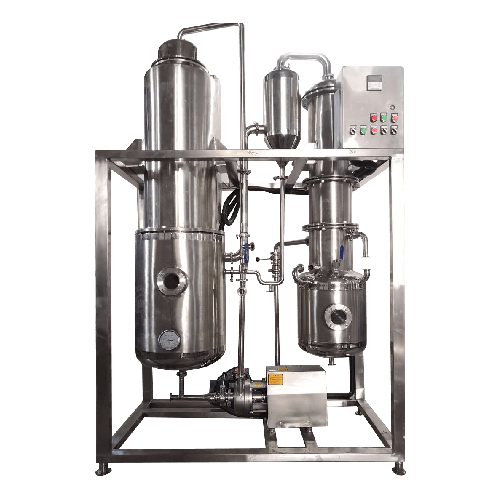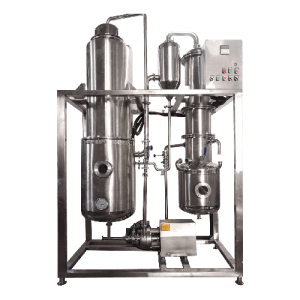 The Working Principle of Falling Film Evaporators
The Falling film evaporator is an efficient one-way non-circulating membrane evaporator. Its working principle makes it has the characteristics of high heat transfer efficiency, low temperature difference loss, short heating time, non-deterioration, easy multi-effect operation, low energy consumption and small equipment volume. It is widely used in chemical industry, medicine, light industry and food industry.
The working principle of falling film evaporators can be descriped as follows. The liquid is added to the upper tube of the heating chamber of the falling film evaporator. Through the liquid distribution and film forming device, it is evenly distributed into the heat exchange tubes. Under the action of gravity and vacuum induction and air flow, it forms a uniform film from the top to the bottom. During the flow, it is heated and vaporized by the shell-side heating medium. The generated steam and the liquid phase enter the separation chamber of the evaporator. The vapor-liquid is sufficiently separated, and the steam enters the condenser for condensation (single-effect operation) or enters the next-effect evaporator. The medium is heated to achieve multi-effect operation, and the liquid phase is discharged from the separation chamber.
Parts of a Falling Film Evaporator
The falling film evaporator system mainly consists of several parts. The first part is the evaporator (the heat exchanger), which is used to heat and evaporate liquid materials. The second part is the separator, mainly used to separate the concentrated liquid and the secondary steam generated after heating. The third part is the preheater, which is used to preheat liquid materials entering the steam and cool the secondary steam in order to recycle and utilize it. The fourth part is the condenser, whose function is to condense the secondary steam so that it can be recycled and utilized. The fifth part is the condensate tank, which is connected to the pump at the outlet and capable of discharging condensate liquid automatically.
Applications of Falling Film Evaporators
As the high efficient evaporation equipment, falling film evaporators are more and more well-received. It's widely used in a great number of fields, such as the pharmaceutical, food, chemical, light fields and other fields for the evaporation and concentration of water and organic solvents. And falling film evaporators are especially suitable for the evaporation and concentration of thermal sensitive materials. It can operate continuously under the conditions of vacuum and low temperature, featuring the high evaporation efficiency, energy conservation and low operating cost. As well, materials can be ensured not to change easily during the evaporation. In the following parts, the main applicable fields of falling film evaporators will be introduced in detail.
Related Articles:
Related Products: